by walkerspaight on 23/01/06 at 11:58 am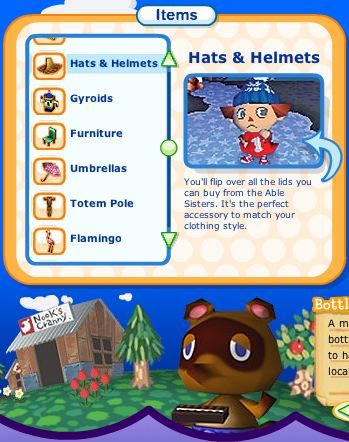 Technical issues kept me from posting this sooner, but it wouldn't be the Herald without a bulletin on the auction market that's sprung up for stuff found in the Nintendo DS massively wifi-player game Animal Crossing. Thanks to a Faithful Reader for alerting us to NookBay.com where all things Animal Crossing can be bought and sold.
Child's play? We think not. It's 300,000 bells for a turban, 400,000 for a gold crown, and 500,000 for an "ultra rare tissue box." At those prices, who could be without one?
If you want something really cool, though, you have to pony up real cash. One Golden Axe recently went to player killer008r for a whopping 99 million bells. That's a whole 25 bucks at the prevailing eBay exchange rate,though it seems killer may have overpaid due to his/her deep pockets.Quoth the buyer, "D00d im not stupid i just have alot of money andnothing to waste it on."