by Urizenus Sklar on 02/01/06 at 10:57 pm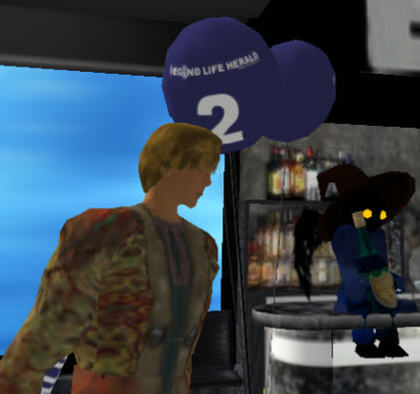 Avatar of the Year Prokofy Neva (left) with Pathfinder Linden
In December 2004, the Herald reported a story that raised few eyebrows at the time, but which would eventually become the single most controversial issue in Second Life during 2005, and would speak to many questions about how governance in cyberspace might shake out. The December story covered the arrival of yet another immigrant from TSO, the infamous avatar Dyerbrook, whose zealous campaign to protest the hegemonic Sim Shadow Government and the favors they were allegedly shown by Electronic Arts employees had earned him wide disfavor. When the Herald heralded Dyerbrook's arrival in the form of avatar Prokofy Neva, few Second Life citizens took notice. Little did they know that the arrival of Prok on SL's shores would turn out to be an epochal moment in the history of the virtual world. And little did the Herald's editors suspect that one year later they would name him their 2005 Avatar of the Year.
As part of the Herald's 2005 Avatar of the Year special, we are pleasedto present the following excerpt from Only A Game: Online Worlds andthe Virtual Journalist Who Knew Too Much, by Peter Ludlow (aka Herald Publisher and Editor in Chief UrizenusSklar) and Mark Wallace (aka Herald Editorial Director Walker Spaight), profiling the Herald's2005 Avatar of the Year, Prokofy Neva:
In Second Life Prokofy established a career as a middle-tier real-estate mogul whose Ravenglass Rentals provided apartments at reasonable rates for newbies and Basic account holders. By using the in-world interface to set the right options on his land, Prokofy—like the handful of other real estate magnates, large and small, who occupy Second Life—was able to allow his tenants to build their own creations, sell them in shops he rented to them, if that was their goal, or just have a place to hang out and call their own.
But in addition to being a virtual landlord, Prokofy was also the originator of a meme that had spread to every corner of Second Life and already sparked intense debate by the time he started writing for the Herald. The "Feted Inner Core" was a term Prokofy coined to refer to a clique of SL residents that made the Sims Shadow Government, in his view, look like a gaggle of silly sorority girls (which was more or less what it had started out as, in fact).
The target of Prok's suspicions were many of Second Life's early adopters, the "oldbie" crowd, residents whose tenure in the world stretched back to its beta testing days and who had taken advantage of special offers the company had extended when it was first trying to build a customer base. Many of these people had received a chunk of land free of monthly tier payments in exchange for a one-time charge of $225 (quite a sum to plunk down on a new world with only a few thousand residents at the time, which was hardly enough of a population to insure its survival). Others had arrived early enough to become tight with the lifers of Second Life, and Prokofy saw in the group a cadre of privileged "digerati" who enjoyed special treatment from Linden Lab because of their early contributions to the content of the world.
To Prokofy, who had arrived in Second Life much later, this constituted nothing less than an active conspiracy between the company and its world's early residents. The FIC, Prok charged, sought to turn latecomers into a kind of Soviet-era collective who would do little more than provide the group with the means of their enrichment.
Prokofy couldn't keep from taking action in what he felt were the best interests of the Grid. While he refrained from the kinds of in-world raids that his activist group, the Lightsavers, had carried out in TSO, Prok made his concerns more than clear on the Linden Lab-run forums devoted to Second Life. In a new series of long-winded posts (termed "whinescrapers" by one waggish SL resident), Prok laid out just how and why the FIC were holding the reins of power and commerce on the Grid, warned new residents not to be taken in by the guileless visage the group presented, and tried to rally support for a grassroots movement to make changes in the world and how it ran that would serve to level the playing field.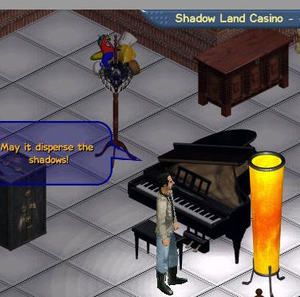 Dyerbrook's Lightsavers at work in TSO
The reaction he got was not, for the most part, a sympathetic one, in part because the antagonistic and at times insulting nature of his posts kept many people from seeing through to their content. But it was a reaction that seemed to confirm what at first looked like a conspiracy theorist's worst fears. "One very important thing you have to still learn about SL is that we are a tight-knit community," one resident responded on the boards. "There are some that are very highly respected in this community. To begin an argument against them accusing them of exaggerations and fabrications is a sure fire way to keep your argument from being read. Right or wrong, that simply is a fact. . . . Just a note of advice."
Despite the reactions he often got, Prok was undeterred. It was his mission, he felt, to educate the newcomer and to "push back" against "crackpot ideologies of the socialist/utopian/wikian variety." Not much escaped his gaze. The free items older players gave away were designed to undercut new players' markets. Those who did not allow the re-sale of their goods (by using SL's permissions system) were hobbling the wheels of commerce. Those who provided open-source items, things that could be freely modified but were not to be sold, were capitalizing on others' work for the greater glorification of their own name. And Linden Lab itself was killing commerce on the Grid by "indulging some players with various subsidies over time."
While Prok's charges sometimes seemed indiscriminate and were often overblown, there was a germ of truth to them that could not be dismissed. Some longstanding residents did appear to get more help from LL than did later adopters, and in more than one instance the company actually contacted a number of what it felt were important content creators, requesting advice on further developing its world—and asking them not to make public the fact that they'd been solicited. (Of course, this news soon made its way to the boards.) That the company should reach out to the most impressive content-creators on the Grid is hardly surprising. But even so, there was a whiff of conflict about the practice, especially given the secrecy with which Linden Lab sometimes sought to operate.
And the fact that the company seemed more responsive to some residents than to others as it moved forward with the development of its world posed a broader question than just who would control the reins of commerce on the Grid. Prokofy's concerns went straight to the heart of the questions about how a world like Second Life might eventually be governed, and how those governance structures might emerge. Most of the content-creators that Prok claimed had an "in" with Linden Lab are the company's best customers, and provide the sights and sounds that attract a great many people to the world. But just as many of SL's residents, if not more, are merely consumers. Where was their voice in the guidance of their adopted world? To Prokofy and to others, it looked like it had been silenced by the cash-flow that LL saw in Second Life's more creative residents. Just as in real-world politics, the content-creators' ability to generate money gave them access to the powers that ruled the world, and with that access came a portion of influence. In the end, all Prokofy was advocating was a kind of campaign finance reform for virtual worlds, a way to include the opinions and concerns of all residents in steering their online environment, rather than giving greater weight to those who generated greater corporate income. To him and to others who agreed with his ideas (if not with their presentation), it meant the difference between SL being the "world" that was promised and the "product" that most other virtual worlds never rise above.
Prok had unwittingly named the FIC around the beginning of 2005, and by February the idea was already generating angry forum threads and in-world controversy. Rather than simply watch from the sidelines, though, the Herald decided to get involved, and commissioned Prok to do a series of "Candid Conversations With the Core" in which he and an alleged member of the alleged group would sit down and hash out some alleged ideas. Finding candidates was not very difficult. "The Feted Inner Core: what is it?"
Walker wrote in introducing the series. "If you have to ask, that doesn't mean you're not a member." But getting people to agree to talk with one of the most incenidary figures on SL's forums was a different matter.
Prok's first interlocutor was an avatar named Lordfly Digeridoo, whose typist was a college student but who in Second Life was a well known architect. The interview began in typical Prokofy style. "I will ask you insulting questions and you can faux get mad if you like," Prokofy began. But in fact, the series (which only ran to two installments) yielded a number of interesting moments, many of which did seem to reveal, if not an inner core, than at least the inner workings of some of the social and economic structures that had arisen on the Grid.

Prokofy: I know you will greet each new enthusiastic newbie innocent initiative with the jaded feted attitude of the inner core, LOL. It's always "been done." it's always "already tried," whether a mall or a bank or whatever. "It can't be done," you say. You're like old-timers in a village. People have to move away from you to the big city. You're a brake on progress, with your "can't be dones."
Lordfly: I say "can't be done" so hundreds of newbies don't lose all their money on a shaky savings and loan.
Prokofy: Well don't worlds need banks?
Lordfly: Not this one. You can't do it without contract enforcement.
Prokofy: Well, from time immemorial immigrants have always made their own banks without the sort of nice contract systems that you may be thinking of. Not all of it is pretty. Crude but effective. It's a necessary stage.
Lordfly: Effective if there's a common bond of trust, but there isn't.
Prokofy: Well, why don't you trust anyone in SL? What have they done to you in two years to make you so jaded?
Lordfly: People online turn into total morons, for the most part. The griefer shooting his neighbors and saying "FUCK YOU, NAZI SLUT" at the welcoming area wouldn't dare do that in the public square of his town.
To Prok, this kind of advice was evidence that oldbie residents were trying to keep the new guys down. While the Herald didn't necessarily see the same conspiracies Prokofy did, the questions he was asking were exactly what the paper has been interested in. Assuming Second Life was to be the world Philip Rosedale was offering, how would inclusive governance structures be able to develop when new ideas were routinely quashed by older residents, and the company itself sought only a narrow range of opinions on how to head into the future?
Whatever the merits of Prokofy's arguments, they soon got lost in the antipathetic nature of the conversations on Second Life's forums and the Herald's comments threads. To Prok, those who felt they deserved special treatment for having been in-world longer were "screaming entitlement fucktards" and sometimes worse. Some among Prok's respondents were no less insulting, charging his typist with being mentally imbalanced and publishing what were thought to be the details of his real life on the forums—something that's usually considered a cardinal sin and which was a specific violation of LL's Terms of Service. Many forums threads were locked, edited or deleted by LL's moderators, who passed out warnings of disciplinary action to Prok and others, but Prok stuck to his guns.
Prok's board war raged for more than six months, his accusations growing more serious as time passed. Some resident-run Web sites that had done much to enrich the world of Second Life by providing screenshot-sharing services or third-party forums and marketplaces were accused of harvesting their visitors' IP addresses for nefarious (if never quite articulated) ends. Prok had accused the Herald of the same transgression in the past. Uri hadn't even bothered responding to the charges and had let the matter drop, but many other residents were unable to simply ignore Prok's posts. Just as Prok felt he had to defend himself from the injustices that prevailed in Second Life, SL's residents felt they had to defend themselves against Prok's charges, and more than one threatened to bring a real-life lawsuit against him for defamation and loss of business. With so much bile flying around, just logging into the forums was an often distasteful experience.
When Linden Lab took action, it spoke volumes about what the answers to Prok's and the Herald's questions might be. In the summer of 2005, the company banned Prokofy altogether, not from the world of Second Life, but from its forums. His crime was having "repeatedly violated the Community Standards and the Forum Guidelines" with his incendiary posts. A couple of wrists were slapped on the other side of the issue, but no other apparent disciplinary action was taken. Prok had been silenced.
To the Herald, this was a worse crime than any that had been committed thus far in the debate. Once again, it looked like the unpopular sentiment had been censored. As far as the emergence of inclusive governance structures in virtual worlds went, the company's move didn't seem to bode well at all.
Worse still was how the ban came about. In June 2005, just after Prokofy was banned from the forums, Internet Relay Chat logs were leaked to the Herald that illustrated what did in fact seem to be a conspiracy between residents and at least one Linden Lab employee to rid the forums of Prokofy. While the Linden liaison involved had simply "lost it," as he later told the Herald, and was acting on his own initiative rather than on orders from above, the conversation seemed to vindicate Prok's wildest fantasies of Linden-FIC collusion. Whether or not it was a self-fulfilling prophecy come true, here at least was the evidence that the world's governance was indeed being influenced, at times, by a shadowy cabal of residents who enjoyed privileged access to Second Life's administrators.
The truth was that Prok was gagged not because of any transgressions but because a small group of residents wanted him gagged. In the chat logs leaked to the Herald, the Linden liaison involved (identified as llPath in the excerpt below) acknowledges that Prok has not, in fact, violated the Terms of Service or the Community Standards, and that other residents have. Along the way, he encourages the residents to provoke Prokofy into crossing the line:

llPath: we're all on the same page here, yes?
llPath: here's the deal
llPath: Prok never "technically" violates the Community Standards
llPath: Prok skirts them, and ultimately ends up inciting other Residents to "break" the CS
llPath: can you see the dilemma I (and all the other mods) are in??
llPath: we are faced with the need to allow the MOST freedom possible
llPath: so, until we work out an official policy, the general rule is, don't let Prok's posts incite you to do something stupid
llPath: but, you didn't hear that from me (say no more)
. . .
llPath: any change in "policy" at LL involves many people
ShadowImg: I was referring more to a "martial law" type policy until the official policy could be written
Cienna: You'd have to ban [Prok] and all 20 alts
llPath: don't think I have not suggested that
llPath: the ONLY FRIGGIN THING I care about is keeping the forums as supportive and constructive as possible for EVERYONE
ShadowImg: yup
llPath: so let your imagination run with that one
llPath: and you'll know what I've suggested
The Herald took up Prokofy's cause as if it were its own. But although it was clear to the Herald that Prokofy was raising important issues—albeit in an incendiary way—most of Second Life didn't seem to feel the same way. Though Prok had his supporters, the Herald was roundly flamed for defending him. Uri, though, was unperturbed. It wasn't the Herald's job to please all the avatars all of the time. What surprised Uri was the strength of resident reactions to both Prokofy and to the Herald's support of him. It seemed that many people, whether they realized it or not, preferred a world in which the unpopular were silenced. In the Herald's view, this didn't bode well for the future of online societies. If virtual worlds are to become truly useful, if they are to fulfill the promise imagined by people like author Neal Stephenson and Philip Rosedale, the founder of Linden Lab, their stewards will need to carefully consider things like freedom of speech and the power of the mob to silence the contrarian voice.
Perhaps most chilling was the fact that in the wake of Prokofy's board war, Linden Lab changed its Forum Guidelines so that being banned from the forums in future would also mean being banned from the Grid. The company also cracked down on what could and could not be said on the boards. Posts that are "intended to incite anger" or that have been "written with the intent of inciting or getting argumentative opinions" are "strongly discouraged" and could result in disciplinary actions.
But judging intent is always a tricky business, and the real world's laws generally find a way to avoid making this judgment. Second Life is not the real world, of course, but it has real-world applications that make the comparison meaningful. As guidelines for the free exchange of ideas—the ostensible purpose of any forum—Linden Lab's leave much to be desired.
Whether or not the FIC actually exists and was anointed by the Lindens, it was probably inevitable that a Brahmin class of Second Life residents would arise. In one sense, it's a sign that the society that's forming in Second Life is as robust as any in the real world, where privileged classes are the norm, as sociologist Clay Shirky has pointed out. This might sound sinister, but in Shirky's view it is a good thing: "In all successful online communities that I've looked at, a core group arises that cares about and gardens effectively, gardens the environment, to keep it growing, to keep it healthy."
But such groups are not always given the software tools they want in order to keep the larger population under their control, according to Shirky. "And if the software doesn't allow the core group to express itself, it will invent new ways of doing so." On one Internet bulletin board Shirky studied, a core group of users began supplementing their public communications with an email list originally set up to plan a real-life barbecue. In the context of the bulletin board, though, the mailing list was used to "coordinate efforts formally if they were going to troll someone or flame someone or ignore someone. . . . [The bulletin board] didn't let them do it in the software, [so] they brought in other pieces of software, these mailing lists, that they needed to build the structure."
While many SL residents were surprised to see the conspiracy that was uncovered by the leaked chat log, Shirky had suggested that such phenomena are merely commonplace. Still, most members of Second Life's aristocracy refused to believe that a Brahmin class had developed in SL—they couldn't see their own privileged social position.
They could not escape the FIC moniker, though. While Prokofy was a contentious figure on the SL forums (though he was never as contentious a figure on the Grid, interestingly), the ideas he contributed have had a profound impact on Second Life. "Feted Inner Core," the term he coined, is now in widespread use in Second Life, and has even been used as a joke in the log-in message that greets users when they sign on to SL. Linden Lab's public relations staff have expressed concerns about the perception that they favor an FIC. Some residents joke that it is actually a "fetid" inner core, and it is a mark of tongue-in-cheek pride among many to be considered part of it. The irony of Prok's board wars is that they ended up making a kind of FIC member out of him too. Prokofy Neva's is now one of the most well known names on the Grid, and he has become an A-list cyberlebrity at many trendy Second Life events.
For all these reasons, Prokofy Neva is the Second Life Herald's 2005 Avatar of the Year; the avatar that has changed the news on the grid for the most, for better or for worse.