by Urizenus Sklar on 19/01/06 at 1:01 pm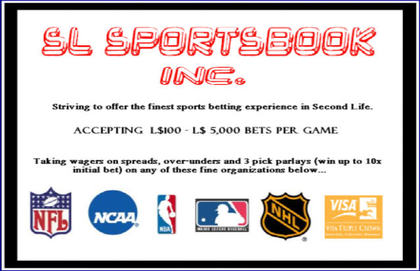 In the past we have reported on attempts to establish sports books (sports gambling operations) in Second Life. SL Sportsbook Inc. is the latest and most ambitious entry in this service industry. Representatives take bets in person on all major sports, including bets on point spreads and over/unders. Of course the question naturally arises as to the legality of such operations on a server operating out of California. Presumably this will not be an issue until the money in play becomes significant. Until then we can consider this a glorified office pool. Or can we? The SL Sportsbook press release is below the fold.
- SL Sportsbook Inc. is a bookie service here on SL that provides betting for NFL, NCAA Football, NCAA Basketball, NBA, NHL and MLB games.
- SL Sportbook Inc. offers better to place wagers on the spreads of each game and/or the over unders.
- Better has the freedom to bet on any game, they come in and tell us which game they want to bet on, SL Sportsbook Inc. will then go and check the spread and over-under on the spot and tell the better, from there they can chose what they want to bet on.
- All bets are taken up front and taken by a person, No machines to be dealt with, all deals and bets are done from person to person to ensure no mechanical flaws and more secure + reliable betting.
- If you win, winnings will be payed within a few days. If you lose you'll be notified of the final score.
-Betters can also chose to play the "parlay" in which they pick 3 games and place the same bet amount on all of them for the spread, not the over-under. If they win all 3 they get 10x their initial bet.
HOW TO CONTACT US
*Main Bookie – Furio Montale
*Contact anyone in our group (SL Sportsbook Inc.) for more info
*Check picks on anyone in our group for office location, most dealings will be done from there
TO PLACE A BET SIMPLY..
Send an IM or offline to Furio Montale and a meeting will be set up where betters can place their wager.