by Urizenus Sklar on 18/01/06 at 2:47 pm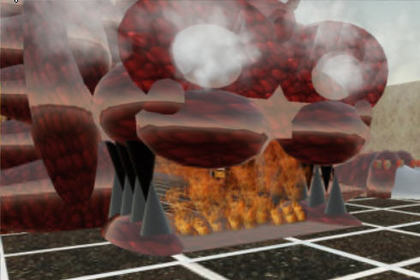 by Dirk Diggler
In a textbook case of how partnerships with the Mafia can go horribly wrong, Drax Lemieux's Red Dragon Club & Casino was attacked at roughly 9:30pm game time Sunday night. Details of the attack are still sketchy, but it would appear that Sim Mafia Boss Marsellus Wallace was the purported attacker. When asked to give his side of the story Wallace simply replied, "Things just came to a head and in the end he lost his." Witnesses spotted the Mafia kingpin in a heated conversation with casino owner Lemieux at the time of the attack.
Damage in the attack was minimal, however a point was clearly made. The casino is known for it's unique build, the shape of a red dragon with the head of the dragon being the entrance to the casino. It regularly hosts events that gather a large crowd. It seems that the attack targeted the dragon's head and it was completely demolished along with a piece of it's interior that acts a room divider. At the time an event was going on and there was a large crowd to the back of the casino on the dance floor. There were only a couple of witnesses to the attack as a result.
Rumor has it that Wallace has been struggling to get his Mafia in Second Life running as well as it did in The Sims Online. To the same note Lemieux is rumored to be struggling financially with his casino and has been looking for business partners. One witness reported that it appeared there was an issue of money being owed to Wallace and Lemieux possibly backing out of some sort of agreement. If that were the case then it would appear Wallace found the opportunity to make a name for himself at Lemieux's expense. Lemieux could not be reached for comment.