by Urizenus Sklar on 23/01/06 at 7:42 pm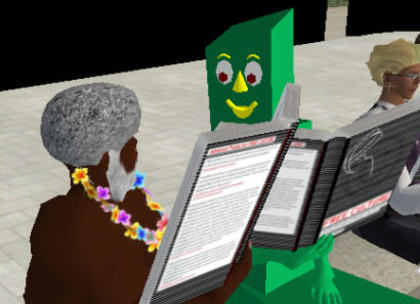 Gumby and his 300 pound Samoan Attorney enjoy their virtual autographed copies of Free Culture.
by Paul Lineker, Iggy Sleeper, and Dirk Diggler
This past Wednesday, Lawrence Lessig's visited Second Life and was met by enthusiastic fans eager to hear his words regarding the cyberspace-related problems that have surfaced within recent years. By the time night had fallen on the world of Second Life and many a spectator returned home with an autographed, virtual copy of "Free Culture." However, a number of Free Culture fans complained about the technical bugs with the venue, including difficulty "hearing," an annoying echo, and to some participants, a sense that the Lindens bogarted the event for publicity and weren't letting Lessig speak enough. Still others found that the format did not contribute to deep discussion, but mostly just a series of one line position statements by Lessig. On balance, however, the event was well worth attending…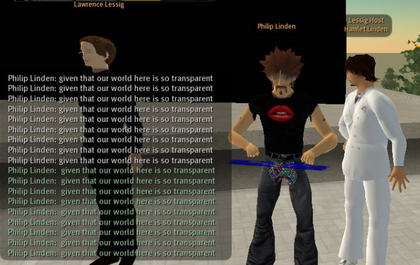 Philip Bogarting and spamming the bandwidth.
Lessig, of course, is the author of Code and Other Laws of Cyberspace as well as Free Culture. As mentioned on his website, he specializes in the areas of "constitutional law, contracts, and the law of cyberspace." Indeed, Lessig has become an important figure in the digital world of today, and he brings to light several issues dealing with the emerging dominance of cyberspace and its components.
Lessig's visit to Second Life suffered from problems with the broadcasting system (people in certain regions would hear both Lessig's chat and the broadcast, making them hear an echo) and certain parts of the auditorium were inaccessible due to the associated server(s) being full.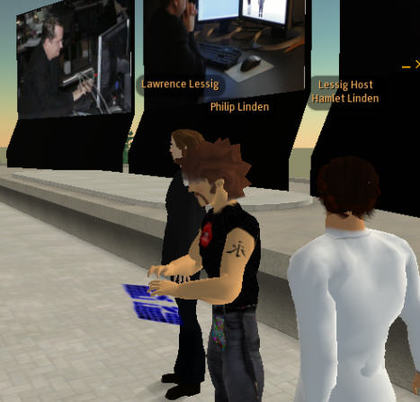 Larry still waiting for Philip to stop typing…
Lessig's first major topic was copyright laws. He asserted that our government had extended copyrights past their due, and as a result, legal issues stymie creativity and innovation. Indeed, citing an example of the Google book search project, Lessig maintained that a great deal of our culture and creativity is prevented from being available because of copyright legislation. As technology progresses and the concepts we can claim to "own" – from books, to songs, to virtual items – grow more and more abstract, this particular topic becomes even more important in the near future.
One of the key points brought up by Lessig was that the law now protects "the author plus 70 years – which for someone creating in the way Irving Berlin did, would be 140 years. So, Justice Kennedy, does blocking access to 50-75% of the books in our tradition constitute a burden on our culture?" Lessig also noted that the Internet is a crucial place for creativity to thrive but "the "war" that that copyright industry is waging against "piracy" will kill it, at least as a legitimate part of culture."
Next, Lessig talked about the phenomenon that is Second Life, and what such a world can possibly mean for the real world. He brought up a rather interesting point. If we wish to know the effects of legislation, such as the likes of what was mentioned earlier, it is entirely applicable to enact similar legislation into a synthetic world such as Second Life, and observe its effects on the virtual society. Philip Linden commented, "One thing that I have often said about SL, is that it is a kind of time machine[,] a place where innovation is rewarded, or perhaps ideas fail…" Truly, the bridge between the real world and Second Life may not be as long as we imagine, and I do agree with the notion of Second Life acting as a predictor of things to come.
After commenting on a few other things here and there, questions from the audience were answered. As one could have expected, the questions all dealt with, in one way or another, virtual worlds and Lessig's various opinions on related issues. The questions were solid and Lessig's responses were very much worth hearing, if terse because of the restrictive format of chat and the nattering of Philip Linden.
One fan asked what Lessig thought of a society where some people released their designs and allowed for free modification, and other people released designs with "restrictions and protections in place." Lessig stated that he liked such a society, and that it would leave the decision of the better choice up to the people in general. Another fan asked what place democracy and law had in a world such as Second Life. "Please, tell me," was the reply. It was commented that no virtual world in existence currently possesses a "vigorous democracy," and Lessig hypothesized that we are, in general, turned off by politics. Yet another fan questioned the sanity of "open-sourced" goods, or more accurately, goods freely modifiable by the public. Open sourced software still allows a developer some profit due to services they can provide, but surely, authors would not be able to prosper doing the same with books. Or would they? Lessig brought up an example of a South African company that initially wrote and published books, but then started making them accessible for free electronically. Four years later, they discovered that book sales had gone up by 300%, even though anyone could have gotten the same material for free. This interesting case, Lessig said, wouldn't apply for everything, but it should be considered; creators should have the right to make this choice.
A few of the best questions and answers of the evening:
In response to a question by Calix Metropolitan on intellectual property rights and dispute resolution in Second Life:
"SecondLife states in TOS that they abide by DMCA and offer a way to dispute, IP infractions. The problem is IP infractions can vary and are very hard to prove as code, building and the tools used to make objects is basically the same format. Is there a copyright similar to a Founders Copyright (creative commons oversees this) or something akin to protect scripts that are original in nature and use. Also, what about NDA agreements in SL vs RL and subcontracting to members using SL money (which can equate to any currency through Lindex trade)?"
"So in principle a copyright is only violated if you copy someone else's work. that makes proof very difficult because if there are just a few ways to do something there's a complicated question about whether it can be copyrighted and then a hard question to know whether the defendant really did even see the original that he is alleged to have copied. I do know that on democracy island (I believe) they were demo-ing a creative commons tool. Very cool implementation but we don't have a sl founders copyright. Re agreements: depends on what it says. But again, don't assume they are completely separate worlds."
Daniel Terdiman from CNET probably had the best question of the night. His question was: "I wonder if [Lessig is] familiar with Marvel v. NCSoft and if so, what [Lessig] thinks of the idea of restricting the kinds of characters players can create. And also, how much of a chill on free content creation is it to have a settlement between those parties that doesn't reveal what the terms are?"
Lessig: "I know the case it is a perfect example of the insanity of these laws people ought to be able to create. The characters that are part of their life the idea that Marvel owns these characters in every use they might have is wrong. IT is just this kind of limit that we need the law to craft. And yes it is bad we don't know the settlement but the settlement wouldn't control the law. We need some good common law cases to describe the freedom here so others can build on it."
A virtual talk may be unappealing to some, but from what was observed in this instance it certainly has its merits. For one, it is impossible to miss what the speaker says, as one can simply scroll back and read their chat history. There is potential for improving the format as well; it would have been possible for the speakers to provide audio feed with the use of a microphone or headset. Combine that with the convenience of participating from one's own home, and the sense that one got to meet Lessig himself – if not in the flesh then in the pixel – and it was definitely a worthwhile event.