by matthiaszander on 20/01/06 at 11:58 pm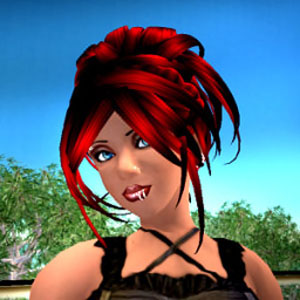 I'm extremely proud to present to you this week's Post Six Grrrl (and the first of these in a while). MissChivous Craven is a DJ here in SecondLife who loves metal music! Special thanks to Daphne Molinari for taking up the torch of the Post Six Grrrls after our previous photographer dropped the ball and quit providing us with pictures without any notification or warning.
M – Metal lover
I - Intelligent
S- Smart Ass
S – Sensitve
C – Comical
H – Honest
I - Irresistable
V - Vivacious
O- Outspoken
U- Understanding
S- Sexy
That's me, although some of the letters were filled in by my friends, because I just didnt know what to say about myself. I love to DJ in SL and spend time with my friends. I love being with those I'm close to. I also like to build in any spare time I have. Of all the quotes I've ever heard, this one seems to wrap it up pretty well:
~Some people are like slinkies~
Not really good for anything…BUT they still bring a smile to your face when you push them down a flight of stairs.
I'm honored to be picked as Post Six Grrl in the Herald. I'll make sure to add it to my SL Resume ha ha ha!