by walkerspaight on 26/02/06 at 11:26 pm
by Jeannedellalune Prudhomme, Special to the SL Herald
There's more to cybersex than poseballs, according to one of SL's more accomplished Don Juans. The right word at the right moment will go much further to guarantee a satisfied partner than relying on a TS3 or Resolution sexball to do the job, says MrC, paramour extraordinaire. And making an effort to understand your partner can leave 'em gasping and coming back for more, he asserts.
"You need to get to where you both are there," he said recently, in a frank and open interview with the Herald, "where you both have your imaginations in the same place."
MrC's true identity has been withheld to prevent his being hounded to death by those who want to know if he's as good as he says — which he is, according to a number of breathless avatars contacted by your faithful correspondent.
Gen Lawson, a close SL friend of MrC's, thought for a moment before describing the playboy of the online world. "Ummm, on a scale from zero to 10, I would rate [him] an 11. His best point is the creativity and the way he talks — I guess that is the best way to put it," she mused. "He can send shivers down a girl's spine just describing what he wants to do with you. Or to you."
"I think he is one of the most amazing, intuitive lovers I've ever had in either world," SL escort Skittles Lollipop admitted. "He goes out of his way to learn a girl's secret desires and unfulfilled needs, and he spends all his time on satisfying her completely. His vivid descriptive skills are a rare thing in SL these days," the popular courtesan said. "Only a small handful of the men I choose to be with put that much effort and imagination into their cyber."
According to the muscular, tatooed MrC, the art of cybering is near a low point in SL, and there are a lot of would-be paramours who could use some serious help. "From what I've determined, there are a LOT of guys in here, young or inexperienced or whatever, who just don't get it," he said, relaxing at his home in one of the star sims.
"Guys just don't know what women want. The impression I have gotten is, they think getting a girl on pose balls is it, and maybe they're embarrassed to tell a woman — if she has decided to . . . be nasty — how she feels on them, how wet she is, how she tastes." MrC thinks that most folks in SL probably aren't very happy with their sex lives: "It seems relationships are very short-lived here. That says something."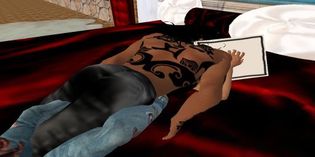 Intrepid girl reporter, at great personal risk, interviews one of SL's most accomplished lovers.
By his own admission, MrC has had "an embarrassing amount" of lovers, "probably over 100 repeaters, and maybe 20 that are cherished friends, and maybe five I'd crawl through glass for. But every one of them had my complete attention at the time I was with them, and I never rushed one," he said. "I don't like to play unless I've got a couple hours."
MrC is no one's exclusive. "Well, put it this way," he said. "I'm always up front with my lovers that I'm not looking to be the one in their life, and if they do find the one, I'll be happier than hell for them. Hell, I've even given a couple away at their wedding." And not without a bit of coaching for that first honeymoon night either. MrC archives some of his more successful amorous experiences and has shared them when a lady has asked that her partner get some suggestions on how to proceed.
MrC is a fun-loving guy with a cool sense of humor who loves to fool around with his appearance, whether it's showing up at a favorite night spot as a classic satyr or a dark and fierce vampire. He generously hands out all kinds of toys to his friends and is always willing to listen to the latest tale of woe from some love-besotted friend.
MrC's exotic abode, located on a beach near a large water void, reflects his tastes. The three-story cube, complete with a large collection of erotic art and a luxuriant sex garden, is his favorite place to hang out, to have a liaison — or just to watch cartoons.
Nonetheless, he also knows where are the good sex spots are in SL, and he makes use of them when his partner wants something different from the rug and fireplace in his master bedroom. He obviously loves the fairer sex, but MrC's advice is good for any relationship.
MrC's advice for superior sex is pretty straightforward: Learn something about your partner; slow down and take your time; handle the tricky stuff, like moving pose balls around, so she doesn't notice; and make the encounter detailed and specific.
"Understanding your partner makes her want more," he said. "I read profiles, I ask about things in their profiles. It lets them know you are interested enough in them to read about them. You can tell if they have a partner. You can look at their groups and see if they have similar likes." Paying attention is essential, MrC stressed. "I listen for hints for what makes her very excited, and take it in the direction that curls her toes," he continued.
Then there is that point where the dialogue might — umm — slow down a bit. "If it seems I'm making her very excited, I give permission," MrC instructed. "I let her know that if she wants to use her hands, I'll keep going, so long as once in a while she elbows her keyboard so I know she's alive."
Women like the thought of a man worshipping her body, and that's exactly what a guy should do to be a success as a lover, MrC insisted. "This is NOT a race," he pointed out. "She has chosen to be with you. Cherish this. It's a big SL, and she could have left with anyone, yet she picked you.
"She might be the one," MrC concluded. "Treat her like that, and when she gets hot, treat her like a horny wet slut. Find out what she likes and do that 'til she howls."