by matthiaszander on 24/02/06 at 9:14 pm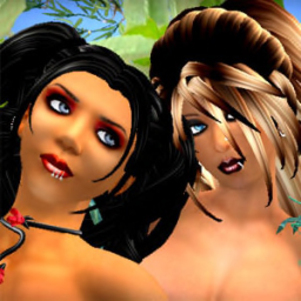 For this week's Post Six Grrrl feature, I'm very pleased to present to you a Post Six Grrrls Revisited feature, focusing on Queenie Extraordinare and Daphne Molinari! Both Queenie and Daphne were Post Six Grrrls back when Marilyn Murphy was doing the feature for the Herald (click on their names to see how they used to look), and thought it would be fun to show everyone how much their entire bodies have changed. Thanks to Daphne for the pictures this and every week. They're much appreciated!
What happens to Post Six Grrls once they have been featured in the Herald? Well this week I had an idea after my sister Queenie made a comment about a re-do. And thought hey…that would be pretty cool to see how things have changed over a year for us. For me, well I went blonde, got a tan and now do the shoots for the Herald. I have also increased Daphne's Delights and started a new company with my good friend and fashion editor for the Herald, Matthias Zander – Forever Yours. I still enjoy the same things as I have a year ago and have made some wonderful friends in that time. But enough about that…you're here for the pics…~laughs~
Daph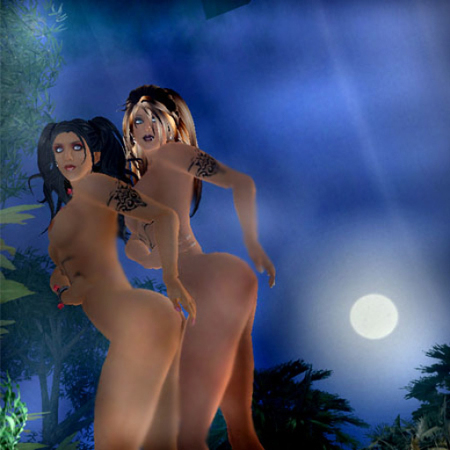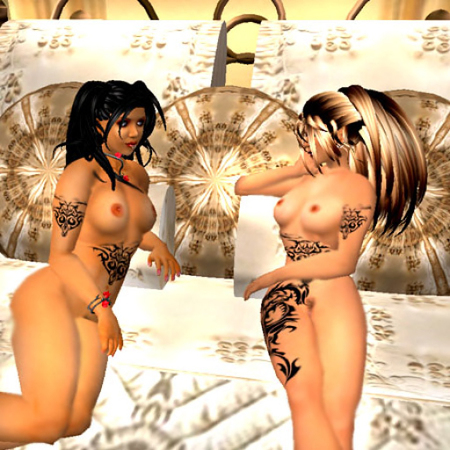 Wow, almost an entire year has passed since I had the honor of posing as a Post 6 Grrl for the incredible Marilyn Murphy…now I get the honor of posing for and WITH my beautiful, talented sis, Daphne!
Lets see…what has changed in this past year, besides my avie looking a little more updated (note: my face and shape has NEVER changed…just skin and hair!). Well, I am still co-owner/DJ for RockNGames Radio and am currently doing weekly shows at The Ruins on the Rainforest sim on Thursdays for Biker Bash events sponsored by Viking Biking, as well as at Dragon Moon on Sundays where magic always happens!! In addition, I help out with a variety of other special events….let me know if you need a metal/rock/80′s DJ!!
I LOVE to model, both runway and still poses, and have been active with Le Cadre', Bella Notte, Cloud 9, DoveVogue and the up and coming \/isage Agency, as well as having the extreme pleasure of modeling new outfits for the sexy and unique DE Designs here and there.
I still play World of Warcraft in my spare time as a proud member of the Feted Inner Horde (FIH) guild *waits for FIC comment from Prok….sticks out tongue, hehe* At press time, I am a level 48 Undead Mage, though I have taken a few weeks off while I patiently waiting for my rl man to CATCH UP!! Geez, I could have been level 60 three times over by now LOL So yes, I am taken…doesn't stop me from being a flirt and having lots of fun though… but girls, don't hide your men, I am harmless and RUN from even the smallest sign of drama.
One thing that HAS changed in this past year…you can no longer find me running around naked in all my glory nearly as much as I used to, so consider this a treat (hell, how could I resist baring all for my sis!!) Hope you enjoy it as much as I did! *blush*
Love to all my SL family, friends and loyal supporters of RockNGames Radio.
Rock on!!
~Q~
P.S. Come on, Aimee….volunteer to be a Post 6 Grrl….let loose like you know you want to!!!