by walkerspaight on 20/02/06 at 5:48 pm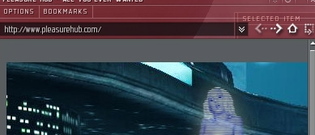 The Herald staff had wanted more time to study the deep ramifications of this story, but now that Kotaku is reporting on sexual services available in EVE Online, it was clear that an editorial decision needed to be made.
Kotaku reports on a chat-based cybersex service that has made its way into EVE. But if you're not interested in having another person on the other end of your transactions, there's also a graphical ship-to-ship service available for pod pilots with money to burn. What's perhaps unique about the service is that makes real-world skin shots available within the virtual world, for a much more immersive experience (so to speak). [After the jump: Adults Only, Not Safe For Work]
Accessible on the Web or via EVE Online's in-game browser, the Pleasure Hub service offers EVE pilots the usual selection of pr0n, but delivered via a unique vector: rather than dress up (or undress) virtual characters, Pleasure Hub brings the real-world flesh straight to your spaceship. Though the service's creators have taken great pains to create an interface that melds seamlessly with the EVE interface (see below), the images that are available — for a fee of 500,000 ISK — are similar to those that appear in earthbound magazines like Playboy, and have clearly been beamed from a planet much like Earth, or at least one that's been terraformed enough to support swimming pools and gauzy lens treatments.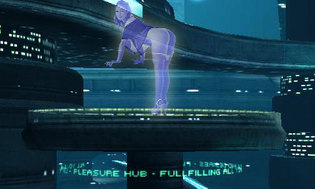 Having run for well over a year, something like 3,000 players have already subscribed to the service, according to Pleasure Hub representatives (who shall remain nameless here), and new subscriptions continue to arrive, at the rate of about one a week, despite the fact that the service does no advertising of any kind.
Notably, the Pleasure Hub staff has been in touch with EVE Game Masters in the past, who are aware of the service and have even expressed their best wishes for "good luck in the triple-X industry."