by walkerspaight on 07/02/06 at 11:44 am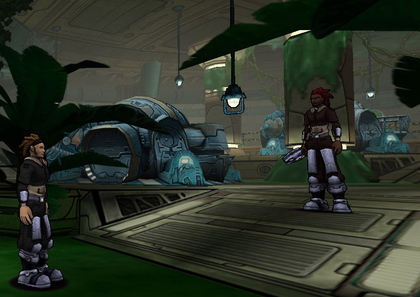 Though its beta test has only just started, the new MMO Seed is already getting the usual breathless attention from virtual world fansites and other online communities. The latest Seed news comes from online gaming and music radio station Split Infinity Radio, which is advertising an upcoming interview with Runestone CEO Lars Kroll, the man ultimately responsible for nurturing Seed into full blossom.
Seed fansite The Plantation flags the interview for 9pm GMT on Thursday, February 9th. If you haven't seen it before, Seed promises to be at least a slightly new kind of MMO. Neither death nor violence are part of gameplay. Instead, players take on the roles of stranded colonists on the planet Da Vinci, whose technological innovations have broken down. Colonists are confined to The Tower, and must work together to either terraform their new home, build a space elevator, reconnect with Earth or otherwise find a way to get things back to some semblance of normal.
The world of Seed also takes a new approach to the look and feel of its virtual world. Strong bold outlines of characters and structures give Seed a deeply comic-book feel, judging from screenshots. The conflict and competition that drives an MMO will come from different groups of colonists working together to achieve different goals. The game also has a built-in political element: players can be elected to Administrator positions, in which they will control part of the colony's resources and be able to decide what they will be used for and at what cost. The social aspect of gameplay will be heavily leaned on, according to developers, which will doubtless keep the game filled with priceless drahma. Shweet.