by matthiaszander on 16/04/06 at 5:45 pm
by Chipsen Queso
OK, just like Matthias did last week, I'm reviewing the PlaySexy genitals this week, but for females! PlaySexy only has one variety, descriptively named "PlaySexy Clit." Let's see if it can stand up to the test against today's standards. Like last week, this is definately not safe for work.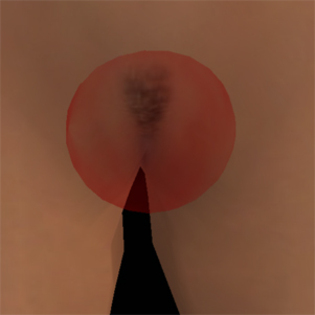 This is what the PlaySexy clit looks like (on a Hybrid skin by Santana Lumiere) when you first attach it and turn "Highlight Transparent" on. Otherwise, you can't see it at all. That's a good thing, because it allows you to see the skin detail, as most skins these days have genital textures built-in since they look much more realistic that way.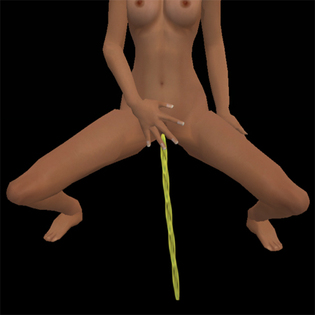 One of the functions of the PlaySexy Clit is a pee function, shown just above. The positioning seems very awkward and out-of-place, and the legs are bent far too much. The particle stream is also a bit odd, and for best effect, probably shouldn't be able to be pushed by the wind. Other than peeing, the PlaySexy clit has 16 commands, all of which are paralleled in the PlaySexy "Commander" Cock that Matthias reviewed last week.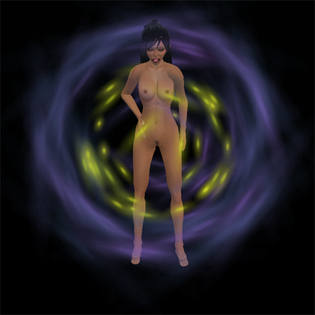 Like the PlaySexy "Commander" Cock, the PlaySexy Clit is around only by touching it – 60 clicks makes you "climax in ecstasy," which releases three particle bursts, the first two of which are shown above. I don't know about you, but I think that looks more like a time warp or something, not a climax.
One thing that should be mentioned is that the PlaySexy Clit is very talkative. It releases six different messages during the arousal phases, which can be turned on or off, though it's on by default. Luckily, it's all in whispers, so it's not like everyone hears it or something.
I don't know, I really didn't like the PlaySexy Clit that much. It required manual stimulation which makes it much harder to use when you're in the "heat of the moment," and was pretty unrealistic. The price was decent at L$799, though.
Ratings:
Function: 2/10
Appearance: 9/10
Features: 3/10
Price: 8/10
Overall: 5.5/10
Matthias will be back next week with a review of Stroker Serpentine's BV-3D cock!