by matthiaszander on 14/04/06 at 2:19 pm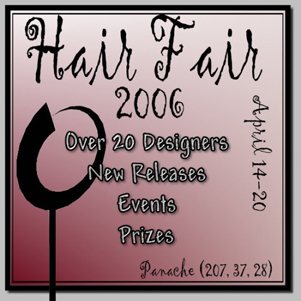 by Matthias Zander
Hair Fair 2006 began this morning on Panache Island to a amongst a great amount of lag. I visited the Hair Fair just after waking this morning, and let me tell you, it is HAIR OVERLOAD! There are some things in the exhibition that lasts until April 20 that are done extremely well, but even more that were done very poorly, and some very obvious omissions.
The good things at the Hair Fair and the good things that Hair Fair participants did were very noticeable. Unfortunately, part of that is because they are rather rare.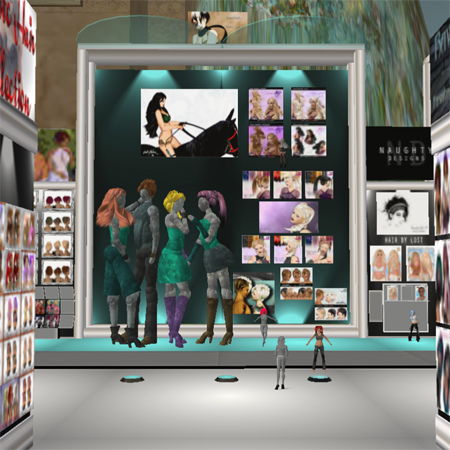 This amazing display is how Lash Xevious decided to display her hair at the Fair. The statues, which can be seen from the central area of the Hair Fair, catch the eye and draw you in very quickly. Excellent work! Her booth is also not over-crowded, and it seems to load much faster than many of the other booths. Lash wins Best Display by a longshot. No other booth was close, except for one.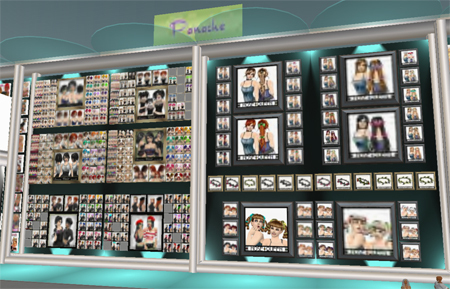 Zyrra Falcone and HoseQueen of Panache did an amazing display, especially on HoseQueen's half (the right half). Zyrra's is a bit over-crowded, but the way that she did it makes it semi-work. I personally would have preferred that she show less color options on each set, and put out a landmark giver to her store on the island the Hair Fair is being held on and direct people there for more hair and color choices. Congratulations, Zyrra and HoseQueen, you have the Most Effective Display!
Unfortunately, there were also a number of extremely bad things that were done at the Hair Fair. Hopefully, the people making these mistakes will read this and correct them before the end of the Fair.
When I was looking for the least effective display, it was honestly hard to find only one. There were three that instantly stuck out, but I was able to narrow it down to two.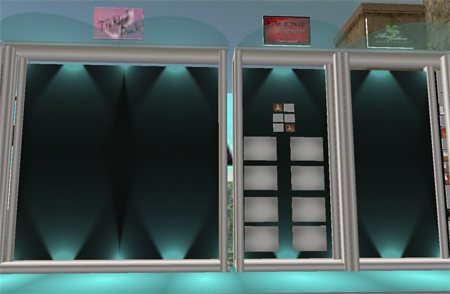 An empty display is certainly not an effective display. That's the problem that Carryn Concord from Tickled Pink, wuvme Karuna from Caliente Express, and Asri Falcone from Asri Falcone Originals are currently facing (wuvme's display, in the center, is fully-loaded in that picture, from what I can tell. The bottom eight boxes have a texture other than the default grey loading texture). The Herald is told that Asri is currently building her display as I write this – way to go, Asri. Better late than never. What makes this especially bad is that Ticked Pink's booth is directly seen from the central area of the Fair. OOPS!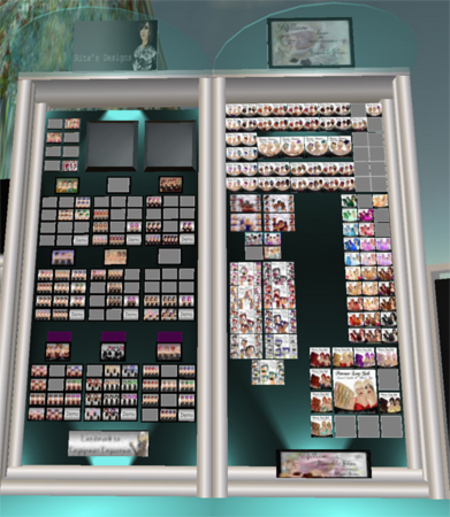 I waited for about 15 minutes while staring at this in my view to try to get everything to load. It just wouldn't do so because of all the tiny, tiny boxes with the huge textures. Let this be a lesson to Rita Groshomme of Empyrean Emporium and Sparkle Skye of Allure – don't use so many boxes, and use smaller textures. This and the empty displays above die for the dubious title of Least Effective Display.
I think there are four main overall issues that the Hair Fair faces, and unfortunately, they can't all be overcome at the same time without great expense.
1) The sim was constantly full. I kept trying to teleport in a good friend of mine so that she could look around, but the sim is set to accept only 40 people – as an island, that number can be set up to 60. They might look into temporarily raising that.
2) The sim was too laggy. I could barely walk at times because of the lag. Other times, it seemed better. Unfortunately, this would conflict with the solution to the first problem.
3) Textures loaded far too slow. I was literally there for over an hour, and I was never completely loaded. Designers need to learn to use smaller textures.
4) It was very disorganized and overwhelming. The looming walls with tiny boxes climbing all the way up was just too much.
The only way to fix all this would be an idea that I overheard while there. The suggestion was that this would work so much better at the corner of four simulators. Let's look at how this would impact the four problems above.
1) With 4 sims, you can have up to 240 people there at a time. No big deal.
2) Lag would be necessarily cut in fourths by dividing it up between four sims
3) There would be less textures in each sim, though it would still try to render them all. That's where 1.9.1 with its wall/render-blocking would come into play as well as…
4) Create different categories, and have one category per sim. Four categories I could see instantly are male, short, long, and "formal" hair that is more geared towards being worn with formal attire. Having enough selection for a male section is something that obviously wasn't worked on for this Hair Fair, so they'd have to do better with that.
The lack of male hair that I just mentioned leads me to the final criticism of the Hair Fair that I'll discuss here: some huge, eggregious omissions. I don't know if it was a personal bias agaist certain people or what, but some of the larger names, such as TOmmy Fairplay of DragonFly Designs, weren't represented. TOmmy has a decent selection of male hair, something that the Hair Fair seriously needed. To the organizers, I would say that it needs to be more diverse if you plan on pulling something like this together again.
Overall, I would sadly recomment skipping the Hair Fair altogether. I'm attaching a list of all of the designers represented below, and would definately recommend going to their individual stores. It will be less laggy, less crowded, and even with the travel time, it'll take less time overall because you're not waiting for hours for textures to load.
Participating Designers:
Six Kennedy, GuRL 6
Babyboo Glitterbuck, Here Comes Trouble
Bailey Mackenzie, Here Comes Trouble
Raylin Portocorerro, X'Clusive
Tami Mcoy , hairstyles by Tami Mcoy
Canimal Zypher, Canimals
Elikapeka Tiramisu, ETD
Asri Falcone, La Cadre
Lash Xevious: Lashed
tessa craven , Hair ~n ~Things
Zyrra falcone, Panache
hosequeen mclean, Panache
Rita Groshomme, Empyrean Emporium
Garbage Prototype, The Random
Wuvme Karuna , Caliente Express
Kiki LaFollette, Hair FX
Karessme Sugar, Karessme Designs
Carryn Concord, Tickled PInk
Sythia Veil, Unveil
Ginny Talamasca, Crowning Glory
Washu Zibrastripe, Mirada
Mystikal Faddoul, Mystikal Designs
Torrid Midnight, Torrid
Starley therian, Celestial Studios