by Pixeleen Mistral on 23/08/06 at 10:46 am
by Pixeleen Mistral, Herald National Affairs desk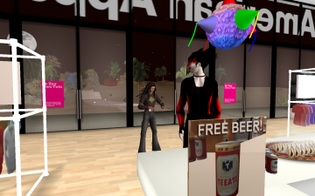 Linden staffer (in dreadlocks) provides personal SL support for a potential business partner (in black and red) at American Apparel
After spamming a number of the SL forums recently with demands for resident voting and consultation before major Linden decisions, SL resident Marshal Cahill told me Thursday, "We will naturally be branded as terrorists but that is simplistic. We are using the environment, particularly new media, to get our message across." Marshal is the political mouthpiece of the Second Life Liberation Army (SLLA), which, based on SL proposal voting, appears to have at least 3 supporters in a quest to liberate SL residents from the iron fist of Linden oppression either via SL feature voting on proposition 1769 or direct military action. One of those has to work, doesn't it?
After the SLLA's deadline passed, the group took action against the American Apparel store in Lerappa sim, as documented by Aimee Weber, who built the store. One has to wonder if this was all some sort of edgy PR move, since the AA store is generally completely deserted. If the SLLA claims it will target critical Linden infrastructure, certain residents may feel the need for an attack simply to validate their place in the world. My SLLA sources claim that Aimee was gracious and supportive, and this may be the preferred method of handling rebel groups in SL these days. In any case, I understand that the SLLA is considering selling T-shirts to raise money for weapons. Perhaps SLLA will also want to consider charging its next few targets as a fund-raising move? One hand washes the other, after all. I was in this sort of cynical mood, until a very reliable source provided me with strong evidence that AA really is part of the critical Linden infrastructure.
Aimee's post had caught the attention of a paparazzi (Muzik Absolute) who stopped by Lerappa Saturday afternoon, and encountered several refined gentlemen: Furr Coats, American Chaparral, and TUPAC Schmo. Mr. Chaparral is an SL nudist, and added a certain ironic ambiance to the AA store. The scene was the usual for SL strangers — sit around and chat, while eyeing each others' profiles warily.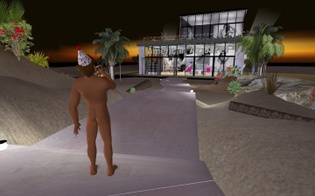 American Chaparral contemplates American Apparel
The group at the store saw no evidence of previous military action (nor AA customers for that matter) but everything changed when they were joined by a Linden and an av who seemed to be a businessman interested in doing business on the Grid or perhaps even investing in LL itself. At that point, a strange, rare and wonderful event occurred: the group witnessed the Linden teaching his ward how to drink in SL — and not just Kool-Aid.
Repeated IM's to the Linden's companion unanswered, so the identity of this important person remains a mystery for now. His initial comments to suggested their stop was early in a tour: "whoa… you pulled me thru… I didn't have to accept?…don't touch me."
The Linden was a patient host, and asked his friend "do you have the music control and the movie control down the bottom?" An interesting dialogue ensued, during most of which the Linden struggled to try to teach his new friend how to drink beer in SL, all the while fielding amusing repartee from various onlookers. Now we know what it must be like to work for Linden Lab. Potential investors/partners need help to navigate the world, and there are strange jokers popping up unexpectedly on the standard tour.
Was the irony of the nudist in the clothing store was lost on the beer-drinking Linden and his charge? This sort of street theatre is common in SL and would seem to limit the groups that will fit comfortably with today's unverified metaverse citizens, so something is bound to change. While the strange juxtapositions that SL residents take for granted may require a RL company marketing rethink, the same sort of rethink could apply to the SLLA tactics. With sims limited to 40 avatars, wouldn't a mass sit-in have more effect than guns in no-script/no push land? Mahatma Ghandi might prove to be a better SLLA strategist than Gerry Adams. In any case, Power to the avatars! Right on! Rez me a Tecate!