by Pixeleen Mistral on 31/10/06 at 6:59 pm
L$1000 bounty for hits on Electric Sheep, Millions of Us, Rivers Run Red –
Aimee Weber hit jobs discounted to L$500
by Pixeleen Mistral, National Affairs desk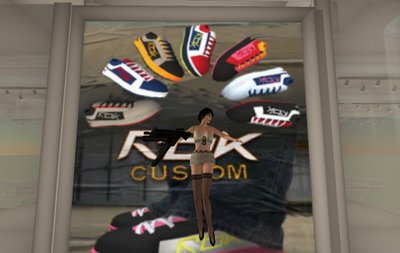 SLLA now paying freelance shooters
Addressing the dearth of entry level jobs in SL, the Second Life Liberation Army today placed a bounty on a number of high-profile commercial contractors involved in bringing RL to SL. In a terse communique, the avatar rights and SL terrorist group called for "unrestricted warfare" in Midnight City with a L$500 bounty for filmed mayhem in the sim.
However, Aimee Weber's stock appears to be dropping in the opinion of the SLLA. Hits on her competitors – the Electric Sheep, Millions of Us, and Rivers Run Red – fetch L$1000 – double what Aimee is worth. Observers speculate that Aimee may be over-exposed in the media based on her relative valuation – or perhaps she and visitors to Midnight City are just easy targets?
What motivates these contract hit jobs? The SLLA is concerned that the "elite few are increasingly taking control of SL". In response, the SLLA is advocating attacks on the RL commercial base of SL in an attempt to gain more avatar rights -and stock options- from Linden Lab.
I was contacted by the SLLA shortly after they posted their hit job rate sheet, and was told they are moving to a leaderless resistance model where the SLLA sets targets and allows volunteers to select the method – push guns or cage guns are a matter of personal preference in the new organizational model. Gun-toting freelance alts may want to brush up on their machinima skills however – the bounty is only paid in the event of a filmed successful attack.
With this in mind, I'm off to go shopping for a shield and a flack jacket for my multimedia girlfriend Destroy Television – I don't think she is a target, but I'm concerned about collateral damage if Hank Hoodoo or the other sheep are hanging around. Destroy? Be super careful, OK?