by prokofy on 28/10/06 at 12:14 pm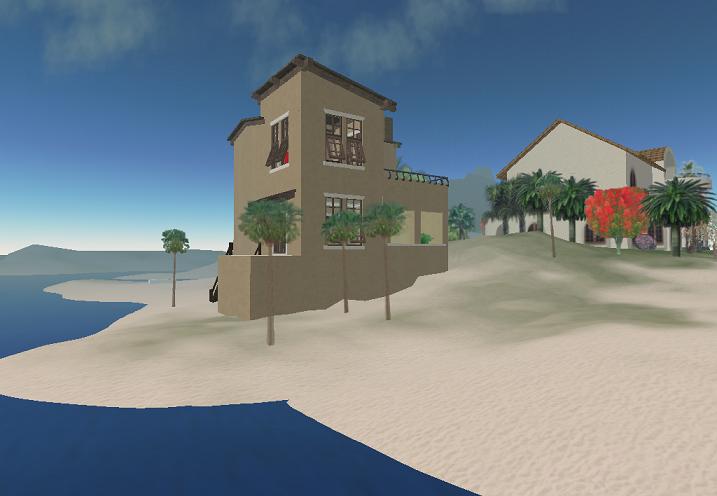 Prokofy Neva, Dept. of Rumours, Innuendos, and Inside Dope for Inside Dopes
Second Life island dwellers were disturbed from their serene and lucrative virtual existence this morning as rumours began flying that the wholesale price of private islands is about to rise steeply. Lindens apparently put the word out to their special friends on something dubbed "the developers' list" that islands could rise to $1595 per sim with $295 monthly tier or maintenance fee, or even as high as $1695 per sim with $295 tier. Currently the islands in the Land Store are $1250 with $195 tier.
The sticker shock not only sent waves of apprehension through those making a shaky living on the differential between monthly tier ($195) and what they potentially can rake in from rents ($400); it also indicated the existence once again of an inside track from which even those who count themselves insiders are excluded. One reliable source told the Herald that a letter went out to a few privileged developers indicating price increases; that seemed to mean Lindens were providing tips to buy up cheaper islands now to give these businesses a boost. According to another source, the tip was on an list of metaversal developers much featured in the news.
One island dealer told the Herald that a new buyer was told the price was going up November 1.
The Herald is still checking the rumours but sources say the prices will go into effect either Monday or November 1, and that the notice of only two or four days seemed "unfair".
Several others who have heard the rumour have been trying to check it with Lindens and getting "we know nothing" from liaisons (as usual) and conflicting reports from those higher up the Linden food chain.
The open question everyone in the land business has is whether the old tier of $195 on previously-purchased islands will be grandfathered, to ensure that long-term dealers like Anshe Chung and Azure Islands will be able to stay in business even if they face competition now from major RL corporations who will find $295 or more a trivial cost for server storage space.
While in RL, creation of a grandfathered scarce commodity could be assumed to make that commodity more valuable, in SL, various forces converging on the scene don't always ensure scarcer land retains value; the Lindens can always make more of it, and with a huge influx of new subscriptions, there's always another guy to buy the island at whatever it's priced at.
The hike in island prices could make mainland more valuable, but the Lindens' commitment is uncertain to maintaining cheaper, contiguous mainland sims with many individual customers on small plots of 512 m2 or larger. It is easier for LL to have landlords pick up the customer service slack and take care of everything from newbie orientation to troubleshooting and individual billing.
If once single island owners could dream of continents, and mainland owners could dream of upgrading to island territory, it may now be priced out of their reach. Now, small mom-and-pop businesses running 10 or 20 or 30 islands as a part-time job or even RL income after expenses of some $2000 per month could find themselves outgunned by large corporations for whom the purchase of 40-bloc sims will be a low-cost line item, especially if they justify it as a cost-saving measure to reduce conference travel budgets.
A number of customers were feeling shocked and angry at the Lindens' failure to discuss the price-hike openly at the Concierge Town Hall on October 26, where a number of troubling issues about "silent crashes" and other serious performance issues were aired. The transcript is closed for comments, howver.