by prokofy on 25/10/06 at 8:43 pm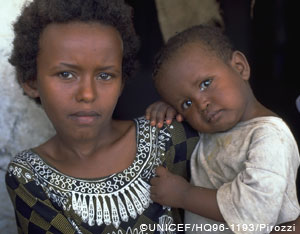 By Prokofy Neva, Community Affairs Desk
Little children like these went to sleep hungry last night in Darfur. Forced to cut rations due to a shortfall of donations from an indifferent world, distraught relief workers had to turn them away. It wasn't for lack of awareness by millions of people who took part in what may someday be seen as a bizarre case of mass psychosis. From October 15-16, people around the world "stood up against poverty" — but apparently did nothing more than get up from their comfortable chairs. Organized by former UN diplomats and backed by wealthy donors, the campaign reaching more than 23 million people appears to have spent funding mainly on its own "awareness-raising" and didn't set a fund-raising goal.
Among these millions were an untold number of Second Lifers who were drawn into an inworld public relations campaign volunteered by big-time metaversal consultant Aimee Weber who made special wristbands for the occasion. Curious kiosks showing only the feet of avatars dotted the SL landscape; virtual worlders could just click to count in the Guiness Book of Records and not even get up from their computers. Regrettably, the campaigners didn't use the eyeball grabbing to raise some Lindens to help organizations like CARE or UNICEF. RL media never even mentioned Second Life in the campaign; although the story came just before Reuters opened its bureau.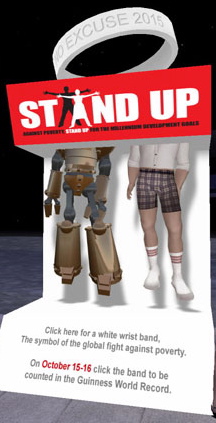 Not only Big Business does hypervents in SL; the big business of large American charities has also launched a series of media-saturated happenings that are seized among those eager to promote Second Life as something other than a sordid realm of cybersex and gambling.
The story repeated most by all major media articles on SL is that the American Cancer Society raised $40,000 through its events in SL. This could only be a good thing, but it has left some activists wondering if more couldn't be done.
Rik Riel, an experienced RL civic organizer and established SL blogger writes in a comment for Social Edge
"There's a lot of virtual world hype floating around, some rising to the level of the dot-com era, as well as a lot of skepticism. For NGOs, traversing through this to find the real "deliverable" that virtual worlds can provide is not easy."
"For example, while very admirable, the $40K raised for the American Cancer Society should be seen in context. In 1985, Dr. Gordy Klatt the originator of the " relay for life" alone raised $30K just from his friends and neighbors in Tacoma, WA."
In the word of anonymous avatars, SL residents seem to rise more to the occasion of helping close friends they can verify in SL overcome adversity, like a recent benefit for injured fashion designer hyacinth.
Otherwise, anyone attempting charitable activity in SL often finds they have to run a gauntlet of suspicions about their motives.