by prokofy on 14/11/06 at 12:47 am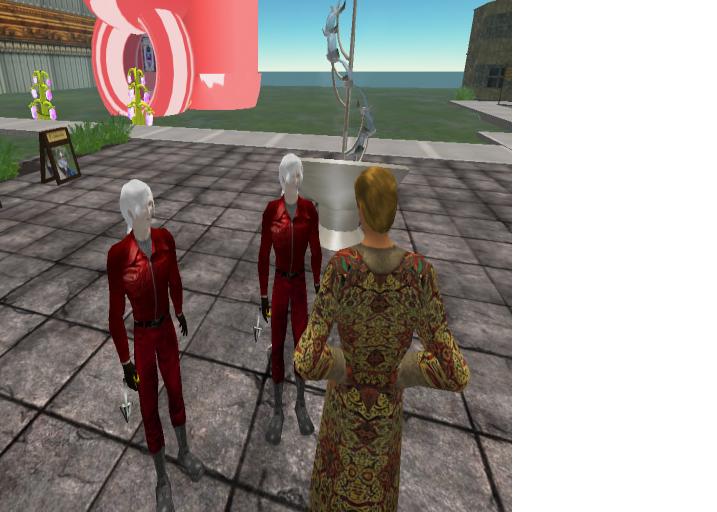 Baba Yamamota's alt showing off his cloning capacity on Pi last night.
By Prokofy Neva, Copy Desk
After huge public outcry about the replicating facilities of a new toy created by the controversial libsecondlife, the bots have been put back in the box, Jesse Malthus, a member of the 88-member libsecond group announced today.
In the comments section on my blog, Second Thoughts, Jesse said, "we did yank the source for copybot temporarily from subversion until we can develop ways to prevent theft and resale."
Naturally, this elicited the response that libsl might have thought about the impact such a copier would have on an economy largely dependent upon the ability of creative people to make and sell their wares.
Last night, however, Baba Yamamota offered your faithful correspondent a copy of the device that made the bots. (I declined; I find most people find one of me more than enough : ). That means…
…numerous copies could be replicating all over the grid. When confronted with this information, Jesse replied, "We estimate that very few people, if any, were able to access the source code, fix the error that stopped compilation, and get a working binary of CopyBot in the time in which the source code was availible," he explained. "We're currently looking at ways to prevent sales of copied objects in the future, as copybot was neither the first nor will be the last prim copying utility," he said.
The more serious tone taken by Jesse at this juncture contrasted with the happy-go-lucky antics of Baba and other libbers who were giddily putting on shows of their armies of avatars, rezzing one after another in rapid succession, posting pictures and passing around an unknown number of copies, saying the device would be "open source". (Later when some residents asked for copies, they were ignored, prompting some to doubt the claim of the "openness").
To be sure, the version Baba was distributing last night had a disclaimer card that came up and told the would-be target of a copy that he had the right to decline being copied.
"Theta/Pi Show-and-Tell Version) copies only avatars that IM the bot and agree to a standard disclaimer," said Jesse explained.
Earlier, a meeting had been held inworld with Robin Linden, convened by the Sellers' Guild, a residents' group that has been lobbying for better protection of their virtual creations from copyright theft.
Attendees left angry that Linden Lab declined to address their concerns by dealing with libsecondlife's reverse engineering program or stopping the bot-maker server-side.
Appearing at the packed meeting, Robin Linden, VP of Community Affairs, did little to quell concerns.
"Next, let me say something I think you all may have a problem with, and that is that copying something does not mean theft; there can be legitimate uses for copying, just as there are on the web," she told the Sellers' Guild. "That said, if you DO think someone has copied something you made and is violating your copyright by profiting from the copying, then you do have the option of using the DMCA process to file a complaint. It's an onerous process, but it is one that we're willing to pursue on your behalf," she said.
On forums such as Second Citizen, content-creators ranged from outraged to cynical about the sudden loss of the already-threadbare IP protection in SL. "Unless there's some permission reworking on the horizon, including closing some of the more gaping holes in the client, then I guess its game over for profit-making," wrote builder Maxx Monde. "Any guesses on economic implosion?"
Others dismissed concerns about product theft and tried to urge their fellow residents into the Brave New World of endlessly flowing free content. "The idea of DRM a) doesn't work, b) puts restrictions on things that could render them unusable (how many music download sites are there, each with their own flavor of IP rights restrictions/management?)," argued Spin Martin. "I can give something away for free and make money off of it too. This sounds zany, but it starts showing up time and time again."