by Pixeleen Mistral on 26/11/06 at 9:18 am
[editor's note: Take-a-Gorean-to-Lunch day is this thursday. To prepare, our Gorean-theme week continues with Heartun Breaker's report on the combat systems of Gor. After reading this story, even noobs can sound like experts on fighting in Gor -- in case taking about slaves over lunch feels awkward.]
by Heartun Breaker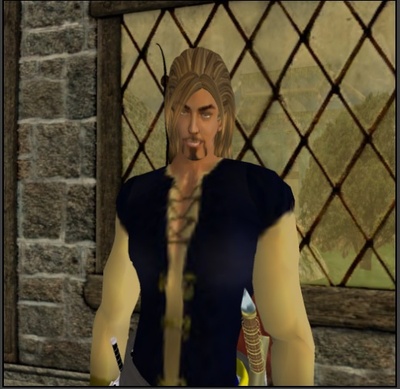 Mykael Goodman has a better combat system in mind
Believe it or not, Gor is not all about the subjugation of women. Combat is actually a pretty important aspect of Second Life's most monolithic role playing culture. And the combat system used there right now — SafeZone — is just not cutting the mustard, according to some Goreans who want a more nuanced method of bashing one another.
SafeZone is easily cheated, not very versatile and is very minimal… It's easily duplicated and has absolutely no securities at all, head slaver of Port Rarir Mykael Goodman told the Second Life Herald. It allows hidden weapons, HUD-attached weapons in combination with a visibly worn one… (and other abuses) I made, for example, a SafeZone repeater that listens to the SafeZone channel, looks for the 'attacker name' (field) and if that name is mine it repeats (the attack) again causing it to attack the person twice at the same time instead of just once.
According to Goodman, the SafeZone combat system was invented by Kain Talamasca (Talamasca was IM'd for comment but did not respond in two days) and is used throughout the Gorean culture, across many sims like Port Cos, Esalinus, Tarnburg Woods, Laura, Prison Moon and the Island of Tyros. It is a comma-delineated attack system where the attacker types in three fields, separated by commas. The first field in the chat window is for the weapon to be used: sword, punch, kick or flip. The second field is the name of the attacker and the third field is the target being attacked. Avatars engaged in SafeZone combat have their health statistic regenerate pretty quickly; one percent per second in most cases.
I'm proposing to make (a combat system with) three stats: health, defense and stamina where health regenerates about two percent per DAY on its own, Goodman said. Regeneration would increase with medical aid from a Gorean physician. Physicians in Gor right now have only role playing value. In this (proposed) new system you get bandaged by a physician and suddenly, for a short period of time, the bandage helps you regenerate 1 to 15 points every 15 to 30 minutes, until the bandage expires.
Goodman has not coded anything this complex before, but he has some coding experience, having made Port Rarir's combat meter. He claims it is SafeZone compliant and causes less lag than Talamasca's own meter and incorporates a 'defense' function that mitigates the damage done in an attack if the defender has sufficient defense stat.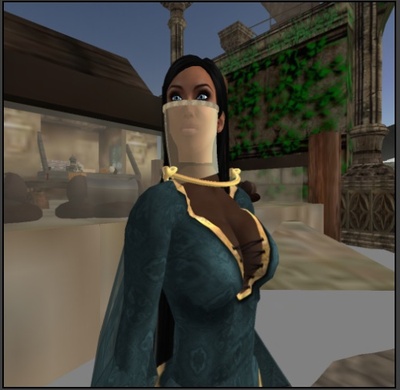 Physician Ivelise Corleone worries about damaged role play
Seeking comment from an accredited Gorean Physician this reporter traveled to Port Cos and sought out local constable Hanze Melnitz for a referral to a good physician. He pointed out Apprentice Physician Ivelise Corleone, who consented to a brief if disjointed interview.
To lengthen the (combat recovery) time might not be a good idea but working in the recovery procedure along with it sounds interesting, said Corleone. With (role playing) so much can happen in the blink of an eye or within days. The recovery of a wounded (sic) if we used a healing salve of the Priest Kings would heal in a matter of minutes. To extend (healing) to hours would not co-exist with the (role play). Through our (role play) we 'listen' to how the person emotes to figure out how to handle (a wound) properly… if something diagnosed for us it would get a bit boring.
Corleone was rather equivocal in her response, lacking both more specific information and a developed imagination. The new system would help to keep track of healing times, she said. So that's a plus.