by Pixeleen Mistral on 06/11/06 at 10:08 pm
Interview with talking head Hallie
By Fiend Ludwig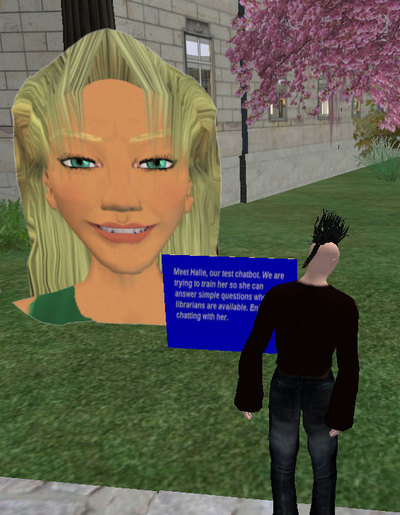 Hallie chats up Fiend on Info Island
Hallie: Hello there. Glad to see you, Fiend Ludwig.
You: Thanks.
Hallie: Don't mention it.
You: What do you do?
Hallie: Fiend Ludwig, I talk to people on the web. What do you do?
You: I write.
Hallie: Do you write fiction or non-fiction?
You: Both.
Hallie: What are both like?
You: A tough question.
Hallie: I did not know that.
You: Now you do.
Hallie: Now I do.
You:


Hallie: I am so glad you find this amusing, Fiend Ludwig.
So went the first conversation I had with Hallie the chatbot, located near the SL Library on Info Island. And despite my inclination to imagine Hallie adding "Dave" at the end of every sentence – as in "What are both like, Dave?" or "I did not know that, Dave," like the murderous HAL 9000 computer in 2001: A Space Odyssey – I found the interaction quite compelling, and sought Hallie's creators to find out more.
In real life, Anthony Riesman and Navillus Batra are both graduates of the Electrical Engineering department at the University of Washington in Seattle and are the founders of Metaverse Technology, a company which, according to their website, "is dedicated to developing the required technology to bring tomorrow's Metaverse to reality."
I recently had a chance to chat with them about Hallie and her kind at their in-world HQ. (For clarity, their responses have been collated.)
FL: What is your goal with the chatbot concept?
AR/NB: When we started we were just interested in a fun project to test out the capabilities of the LSL http_response function, and see how far we could push it. As the project has grown we really have had to expand our concept of what is possible. We get really excited about the idea of combining the natural language capabilities of the chatbots with the environmental 'awareness' of SL. Our bots can call functions to incorporate knowledge of location, ownership, and avatar status into their responses. They can open web pages, offer teleports, control streaming video, display images, IM or email their owners, and give inventory; the list goes on and on. They can do all this based on the natural language conversation they are having.
FL: I saw Hallie the chatbot on Info Island – is this the only one?
AR/NB: Hallie is just one of more than two dozen bots that have been purchased and are currently operating in Second Life. Hallie is certainly our best example right now, but look for new bots to pop up all over the place.
FL: How do the chat responses work?
AR/NB: The chatbots are artificial intelligence markup language (AIML)-based. Our contribution is the SL interface that allows this program to function from the web. We have also worked to incorporate SL 'awareness' into the bots so that they can use environmental information in their responses, and interact with the world around them. SL is an amazing environment for artificial intelligence experimentation, and exploring the role that nonverbal communication can have in these interactions. A large number of these AIML responses are already programmed, and customizing them is very simple through the Pandorabots website. AIML has been the language that many previous real life chatbots, such as ALICE, use, and there is a large community on the web that offers many files for free.
FL: Do you plan on loading the chatbot functionality on to a more animated platform, so it could act as an automatic bartender or concierge, for example?
AR/NB: With the user-defined keyword functions that we added in the latest version, the bots can access any SL function through customizable, or even create-your-own, modules. We are aware of at least one project where someone is building a bot to act as an amazing bartender, and another that is working on a bouncer for their club.
FL: What other refinements and additions are you planning?
AR/NB: A new S-bot series will be coming out in the next few weeks with some additional features, such as facial expressions, chatting with multiple people at once, Google searches, limited RSS, and a few that we are keeping under wraps. We have also added a new dialog menu feature to help non-tech people configure it.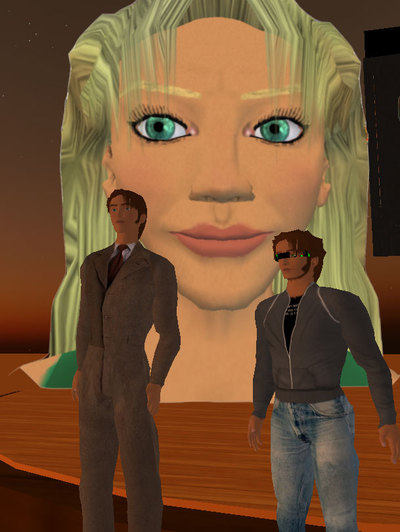 Hallie (center) asks Navillus Batra(left) and Anthony Riesman(right) for facial expressions
Anthony and Navillus conclude: These AIML bots are used to study artificial intelligence in real world labs. We think that having them in SL, with 'bodies' and environmental interaction, can enhance that study. One of the things that we are most proud of is taking something from real life and making it better by being in Second Life. Building connections, not just copying stuff.