by prokofy on 14/11/06 at 9:09 pm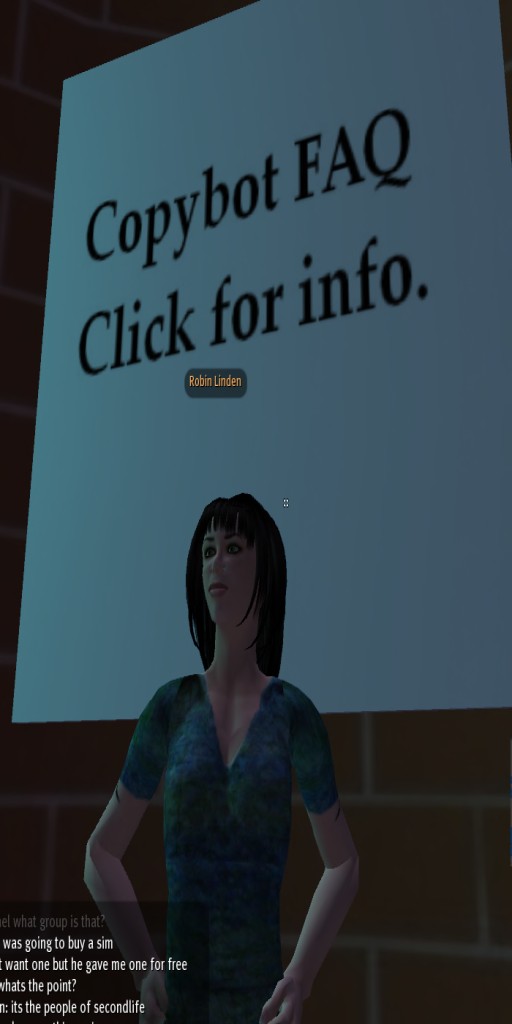 Photo by Wrestling Hulka
By Prokofy Neva, Community Affairs Desk
A subdued GeForce Go, a would-be bot vendor, closed her CopyBot sale operation in Manitoba this evening, surrounded by a seething mob shouting that she was ruining their Second Life, and concerned that if she did not close she would face consequences from the Lindens over what they had now declared as a TOS violation involving copyright theft.
"I figured I'd take it down just to be safe," GeForce told the Herald, saying she had not actually received a Linden warning. Robin Linden appeared on the scene just as she was whisking away her commissioned vendor. "Please make sure that it's gone so we can move on," Robin warned GeForce. UPDATE: An hour later she was banned, but Prim Revolution, maker of the CopyBot, remained at large.
In a tumultous meeting with dozens of angry and fearful residents all talking at once, Robin sought to allay fears of any further concern about mass copyright violations. She urged residents to read Cory Linden's post on the details of the TOS violations involved in copying other residents' avatars and other items without their permission.
Noting a thread that had already reached 678 responses, many concerned and even outraged, Robin announced she was reading the thread but closing it now, advising residents to see Cory Linden's post.
Goaded by the crowd, GeForce put her 512 m2 mature flat land up to sale and it was promptly purchased by land dealer Earnest Candor, who said he was doing a public service, for $3582.