by Urizenus Sklar on 22/11/06 at 3:30 pm
Goons Allegedly Threatened with DMCA Action for "Mockery"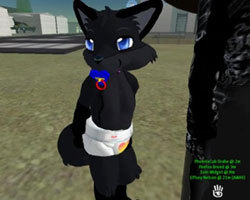 Don't fuck with THIS Offical Live Helper. Image via Petey at Something Awful.
A recent post on the Something Awful site has exposed the seldom talked about fault lines in the Second Life Community and raised a number of difficult issues. When an earlier post on Something Awful satirized a store that sold artwork with a furry ageplay theme, allegedly, a diaper wearing furry (following the goons, let's call him Baby Wolfie) who is also allegedly a member of Linden's Official Live Help (and also teaches scripting classes?) interceded on behalf of the owner of The Baby Tiger Den, threatening the Goons (if the chat logs are accurate) with DMCA action, abuse reports to Lindens etc.
Independently of the veracity of the Something Awful report, the issues raised are these: Can it really be a violation of privacy and/or copyright to expose activities that some feel border on pedophilia, or which may cater to the fetish? Clearly we do not wish to draw that connection quickly — there should be lots of space for fantasy roleplay — but when items are placed for sale in a public space should it not be possible to have an informed debate about the items placed in public and the attendant in-game practices, and doesn't "informed debate" require access to publicly available images? We've been down this road before with the case of the RP 8yr old sex slave Sasami Wishbringer . We will keep encountering the problem until we have a serious debate about the limits of privacy and the right to "snap pictures" of questionable builds in public places — not for texture theft, but for debate about online practices, and yes, satire and mockery.
Alleged letter from Baby Wolfie to the Goons.
Greetings, I have recently been in formed in Second life about a webpage from this site, http://www.somethingawful.com/index.php?a=4206&p=2 That invides the Second Life's ToS in two Sections, First Priavcy And Second Copy Right based on artwork and Work that had no permission to be posted on this site, I am BabyWolfie in the second life a Offical Live Instructors, I was very displeased when I seen my friends Nice work and nice home was Turned into a huge Mockery, I ask that remove this acritcle along with this article http://www.somethingawful.com/index.php?a=4206&p=4 due to very ToS Based on Second lifes agreements, I have aready contacted the lindens about this, And they invisigateing this, They agreed it was in brech of copy right and privacy strandeds, But I am requesting these articels be removed for false lies and Mockery of the creatity of others wich is just wrong, This is not just some game, people live in this world and do this for a living, this article is downing business and mocking the creatity of Second Life, As a WebMaster I hope you will understand how importain this is, and have a Kind heart to remove these two. Because its not something awfull, those guys make it seem like its something that is it not. Please Sir or Ma'am Owner webmaster of this Site, I ask with great kindness that you understand my reasons to send this email to you, please reply and we can discuss or talk about this, I would really apprcauite hearing from you, Thankyou For your time and I appoglise for any inconivtions I may have caused PS Sorry for the bad spelling, I'm one of the youngest Live instructors in second life, I'm use to team speak, Age 18 heh.