by Pixeleen Mistral on 22/11/06 at 9:51 am
concerned Duran Duran fans wonder if the show will go on
by Pixeleen Mistral, National Affairs desk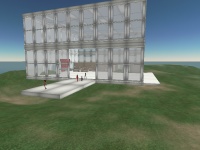 Three and a half months ago – on August 9th – CNet reported the 80s pop group Duran Duran had discovered Second Life and was planning an "exclusive private island" and events – including a concert – in the metaverse. Keyboardist Nick Rhodes was reported to say the group was "thrilled to be the first band to become citizens of Second Life", and the boys were "rehearsing now for our first concert there in the coming months". But after gathering an SL fan group of 450+ avatars – including this writer – there is still nothing to see except press releases and a few builds which seem to be gradually decaying. Did the local music promoters nerf the planned events?
To answer these questions I contacted the metaverse sherpas consultants Rivers Run Red and spoke with Fizik Baskerville – who is leading RRR's in-world Duran Duran work. Mr. Baskerville claims to be well informed about the upcoming Duran Duran sims and events – but says he can only drop hints because he is under a non-disclosure agreement. This is likely to be a disappointment to the fans I met in the Avalon sim – many of whom are starting to assume there never will be an in-world event. So while Mr. Baskerville tells of a huge 6 sim build nearing completion, and suggests that the pre-opening wait is "a grand treasure hunt.. one leading up to the sims opening up" and that "Nick's avatar has been leaving messages for the fans, this is part of an overall story" the fans I spoke with are understandably somewhat dispirited.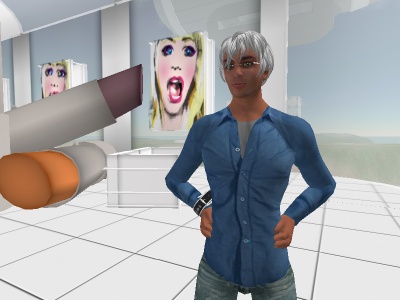 Fizik Baskerville tells us not to worry
Part of the problem may be what appears to be a lack of coordination between the band's PR operation and the in-world builders and residents. While there is a large in-world Duran Duran fan group, the Rivers Run Red people are not taking an active role in using the in-world communications tools – evidently because the band's communications are meant to be handled by the band or their handlers directly – but how connected to the SL community are the band's PR handlers? Until the sim and builds are completed, the best on offer in-world are hints at what might be found as part of the treasure hunt – although Mr. Baskerville suggests that fans will have to decypher the clues for the sims to open.
I tried my own simple treasure hunt, and IM'ed a resident with a promising name I found using the search tab – Nick Rhodes. However, the Nick Rhodes I found has been a resident of the metaverse since 2003 well before Second Life was on any 80s band's radar. Even worse, this Nick Rhodes was not responding to my IMs – I imagine he is quite tired of being mistaken for another Nick Rhodes. I asked Mr. Baskerville if old Nick Rhodes would have to give up his name for the new Duran Duran Nick Rhodes and was assured that this will not happen – the boys in the band will adopt a corporate last name. Evidently we are headed to a future where corporate identity melds with self in the metaverse at least for rock stars – but is this really much different from RL?
In the meantime, interested fans can study a video of Duran Duran Nick Rhodes's avatar here and comfort themselves with Mr. Baskerville's assurances that this RL-SL crossover event will not be a one-shot PR event – and the 6 sim build is nearing completion.
Perhaps the lesson here is pre-announcing events and builds by months may be good for PR outside Second Life, but costs credibility in-world. However, with a small in-world population and an easily bamboozled main stream media, metaverse residents are likely to be left hungry like the wolf not just for Duran Duran but other media players positioning themselves in SL.