by Urizenus Sklar on 14/11/06 at 10:37 am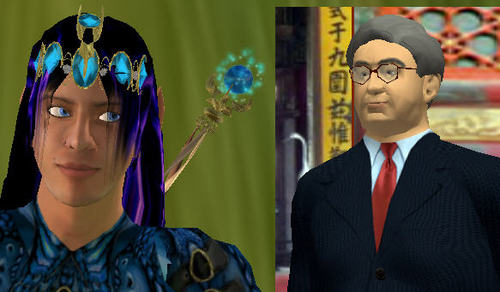 Out with the old and in with the new. "It's like the end of LOTR"
In what is one of the saddest days in Second Life that I have known, Wayfinder Wishbringer, long time Second Life resident and ruler of the Elf Clan leaves second life today for parts unknown. Elf Clan, which boasted over 500 members as recently as this summer, has for all practical purposes dissolved. Also today, IBM Chairman Palmisano will address his IBM troops from a scale model of China's forbidden city. Interesting choice of venue there. If you are interested in the IBM story, go read Reuter's SL Press Release Recycling Site. If you want to read more about the Wayfinder's departure, read Uri's interview with him below the fold.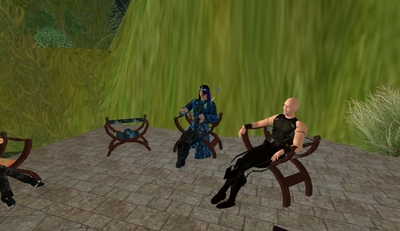 Urizenus: it is good to see you again old friend
Wayfinder: And you Uri. Been a long time. : )
Urizenus: though sad to see you under these circumstances
Wayfinder: Well, sad in a way, yes. I hate to see things crumbling. but… actually good for me. I've been needing to get back to RL for quite some time
Urizenus: why are you leaving?
Blue Linden: Database issues continue…as you've likely noticed. Devs are on the ground fighting fires and resetting sims. Will post more info to blog.secondlife.com as we have it.
Wayfinder: Have you seen http://elfclan.net yet?
Urizenus: I'm afraid I haven't
Wayfinder: That would probably be the place to start.
Wayfinder: In a nutshell: Typical bad officer story that we've heard so many times on SL. officer turned bad, was removed from office, appropriated (an extimated) 1 million+ L$ in group funds and assets. I took the evidence to LL, they refused to get involved, I told them to take a flipping hike. It was the last straw for me. So I let the Elf Clan Counsel know I was leaving SL. They tried for a month to run Elf Clan, saw what I'd been putting up with for 2 years, decided to close it all down.
Urizenus: So it is really about your anger at the Lindens as much as the betrayal
Wayfinder: Well, Elf Clan continued for 4 months following the betrayal… and we actually grew. When we moved our headquarters to ElvenMyst, the group flourished and the sim thrived. But… personally… it came down to the matter that I do not support companies that do not support me. All ego aside… Elf Clan was one of the most successful groups to appear on the grid.
Urizenus: why do you think they didn't support you. do you think they are now more interested in ibm and nissan and toyota?
Wayfinder: Well, it is obvious that LL is courting the major corporations. Everything they are doing, from a strictly business-analyst standpoint, indicates one of two possibilites… either they are courting the large corporations… or something far more dismal. There has been a lot of speculation of course. But it does seem they are making… and have made for quite some time… decisions that are more in favor of their bottom line and growth than in the interest of the customers that are building this world. Two such business policies are very major: that no matter how many people invest in a sim, only one person can "own" it. That is very poor business policy. And LL has had customers complain about it for the entire two years I've been here. That they have chosen to ignore those complaints I think is very tell-tale in these matters.
Urizenus: it seems a bit like Lord of the Rings where the elves and hobbits leave middle earther and the Western Humans take over
Wayfinder: That is actually mentioned on our website. And yes, that is a very accurate correlation. Because that was the final decision: did we want to shut down Elf Clan ourselves, while the group remained strong and honorable, or wait until the pervasive and building general attitude infiltrated and ruined the group? LL is talking about raising tier to $295 a month when people can barely afford it as it is.
Wayfinder: They're courting the big businesses… and whenever that happens… there go the hobbyists.

Urizenus: do you think the meatspace corporations are destroying second life?
Wayfinder: You know, I don't know as they are. I mean, there is room for just about everyone on Second Life. I don't personally believe it's the corporations that are the problems. It's the core attitude of the host company. The eagerness to put the bottom line ahead of the benefit and safety of their customers… the ones who are paying the bills. As an example… Linden Lab has much vaunted their "more than 1 million members" status. To get there, they opened the grid to no-ID registration. Email addy only. And we all know how easy it is to get an email addy. As a result, griefing increased by major amounts. The number of adolescents (and resulting problems) increased by major amounts. These things were not for the good of the grid.
Obviously, neither their programming, staff or equipment was up to the task of such increased numbers. As a result… if we now look at the stats, we find that more than 600,000 of those members haven't logged on in the last 90 days.
Wayfinder: And of the ones remaining, only 175,000 have logged on in the last week. Now that's a membership loss of what, 85% or so?
Urizenus: if that many have
Wayfinder: Yes indeed. How many of those are alts and camping chairs?
Urizenus: Way, what will you miss most about second life
Wayfinder: Two things equally: Friends and the creativity. I love designing and building. Forming an entire themed sim is a real rush…. seeing a world arise out of nothing. Fortunately, there are alternatives to SL. ; )
Urizenus: where will you go?
Wayfinder: Many of my friends have gone to other platforms. There has been a massive migration over the past several months to Worlds of Warcraft and Guild Wars.
Urizenus: will you join them?
Wayfinder: At least, that's what I get from Ims sent to me from those who have left.
Wayfinder: No. In my case, I return to RL and the much more beneficial and more permanent things there.
Urizenus: what will you do in RL
Wayfinder: When LL decided to not protect Elf Clan against a rogue officer… I came to the sudden realization that this entire world is only as permanent as the next company policy or "update". Which means, it's pretty durn shakey. I had a pretty active RL before coming to SL. I was an artist, poet, owned my own computer company (still do). I performed music at local establishments, had 3 CDs on the market. I haven't done a painting in 2 years. Time to get back to real things.
As I said to our members in Elf Clan… Second Life is like anything else. One can use it for occasional entertainment… or it can become a pervasive addiction. Some folks make their livings here. That's fine. But for some…. SL has become their RL. When that happens, people lose out on so much. Because one thing SL is not… is life-fulfilling. As I said on the website… Last thing I want on my gravestone is "Was an avatar in Second Life". LOL
Urizenus: yes, that would not look good
Wayfinder: SL can be fun. But when it becomes more than that, time to re-balance.
Urizenus: way, you will be missed, I'm sorry to see you go
Wayfinder: And I will miss many, you included my friend. We had lots of fun. But I think my 1st life profile says it all.

Urizenus: you can always come back as a reporter for the Herald!
Wayfinder: : )