by Pixeleen Mistral on 14/11/06 at 8:34 pm
Sim crashes and protests at the copyBot shop
by Pixeleen Mistral, National Affairs desk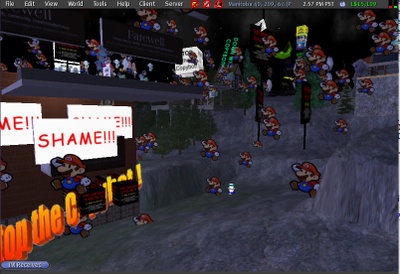 Mario particle lag bombs used to crash Manitoba sim
Hordes of angry avatars converged on Manitoba sim today after metaverse citizens Prim Revolution and GeForce Go set up shop in-world to sell the copyBot – a tool that allows for easy object copying without regard to the DRM controls. On my first visit the the shop this morning, a relatively brisk business was being done as curious avatars queued up to buy a copyBot – but then were afraid to use it – at least in public. A number of protest signs had been erected just outside the store property, and even entering the sim was difficult given the crush of avatars.
By afternoon, the scene had changed as protesters were much better organized – and even more angry. Protest signs were being handed out to all, and the store was encased in protest prims — about 4 layers deep. Periodic lag bombings slowed the entire sim to a crawl – then crashed it as it filled with bouncing Mario particles.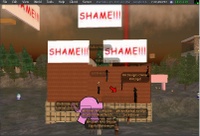 protesters shame copybot sellers
Manitoba crashed again about 40 minutes after the first crash in what was a chaotic crush of protesters. Here is a sample of the chat:
Stephane Zugzwang: what do I tell the RW content provider I was about to sign with….?
Sky Everett shouts: I have a question.. why are we here giving this asshole traffic???!!
Nubian Bliss: I officially hate this thing
Alexander Regent: wow…there is some hella lag her e:)
Circe Broom shouts: SHAME SHAME SHAME ON THE LINDENS FOR ALLOWING THIS TO BE HERE!
HolyHell Cassell: the asshats selling it arent banned yet
Berford Action: so this is natural selection at work? the death of content creations?
Shagwell Foxley: it fucking works, i cant beleive it
Sianita: feels nauseated
Berford Action: and I had such high hopes for Sl….