by Pixeleen Mistral on 21/11/06 at 3:20 am
Is it really news when SL residents do not provide RL names?
Eloise Pasteur, European Affairs desk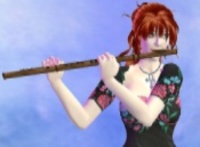 Recent weeks have seen an explosion of Second Life into the awareness of everyone in Real Life that follows the news. In the UK alone coverage snuck out from Newsnight, a reputable but not widely watched show in December 2005 to, in no particular order, articles in successive on Radio 4 Law in Action, a series of short films on Channel 4 just after their main news for a week and stories in the big newspapers. There have also been doubled up concerts: BBC Radio 1 doing things in Second Life and Real Life in parallel for example. Doubtless there have been many other examples I've missed.
As any mentor can tell you this increased coverage is not restricted to the UK. There are veritable (and all too predictable) floods of new residents from various countries including Italy, France, Germany, Australia and other countries as their national media cover Second Life. There are noticeably (and sometimes inaccurate) PR firms appearing in Second Life to rival our home grown publicists. There are even politicians sneaking in… there is a Dutch political campaign for RL elections taking place in here too, to go alongside our own, home grown, politicians in Neufreistadt and other places.
Second Life even has it's own "reputable press" – the Herald et. al. – who are fighting with Johnny-come-lately Reuters. But, despite signing up to the same terms of service as the rest of us, Johnny-come-lately is causing a change in tone. The established Second Life press lives, clearly and apparently happily, well within the TOS, however critical it may be of things happening around us. Read the articles… it's all Second Life names, very rarely any mention of any real life details. In fact a recent article comments on the subversion of Second Life reputable names by a new Second Life surname without a thought of real life details except for one former Linden.
Read the Reuters interviews and you get mention of real life details:
"Anshe Chung Studios, founded by Anshe Chung and her husband Guni Greenstein, [...] Since an appearance by Anshe – real name Ailin Graef"
Or the comment that X declined to give their name:
"Prototype is based in the UK, but declined to provide his real world name.
'I'll need to keep it that way till I can afford real-life bodyguards,' he joked."
Now, I'm not saying that Adam Reuter is doing anything wrong at all. He's clearly not identifying real life details of people that have asked him not to. But, he's pointing out that people are not giving him real life details as well. Is this a direction in which we want to go? Should we be thinking about it, and trying to stop it, now?
I think the answers are no and yes.
Second Life, since day 1, has incorporated the idea that who we are in here and who we are outside can be different. We're not all surfer dudes and beauty queens in real life, I assume most of us are actually human, though. The points at which you tell real life details are up to you. In fact the vast majority of us leak at least some real life details to our friends:
How many of those you talk to at least once a week work?
How many are students?
For how many of them do you know what they do for a living, what they're studying at University?
You'll probably find the number of your intimates for whom you know the answeres there are quite high, close to 100% for the first two questions, and probably well over 70% for the next one if the small number of people I asked is at all representative. Now:
For how many do you know an email?
An IM contact?
Their marital status?
Their sexual preference?
Their country of residence?
The numbers here might well vary. Most of us tell, deliberately or otherwise, those we are close to things across real and second life. Perhaps that's a reflection of just how long we spend together, how widely we talk in here. Perhaps it's something that will evolve as Second Life, or whatever the 3D Metaverse is, becomes the norm for us all and society catches up with the changes of this new technology.
I'm not saying our real selves should be unaccountable for our Second Life actions. In fact I think griefers are an excellent case in point for strengthening Real Life accountability within Second Life. However, now is the time to fight for the idea that, until guilty, it's the norm that we choose what we tell people about our meat life selves. Does the story about Anshe and Guni have any more weight because it says who they are in real life? Does the story about Timeless have any less because he doesn't? No and no, not at all. So, why mention their real life names at all? More particularly, why mention that they won't provide it?
The way that the news is reported matters, sometimes more than what is actually in the news. "Blonde Bombshell Britney single again lads, Wahay!" or "Troubled singer separates: Britney's marriage ending in divorce" are equally irrelevant to most of us but have rather different impacts. We need the journalists to be reporting the news that's fit to print and worth printing, yes, but we need them to report it in a fashion that makes us all expect that our second selves are the people in the news, regardless of our real life.