by Pixeleen Mistral on 29/11/06 at 2:45 pm
Will Linden Lab land shortage place Gorean slaves by the NBC Christmas tree?
by Pixeleen Mistral, National Affairs desk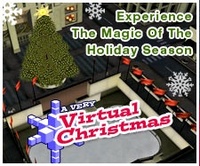 In the lead up to a virtual Christmas tree lighting event to be staged for NBC television between 4 and 7 pm PST today, a real surprise was uncovered by Prokofy Neva – at least one Second Life virtual recreation of the New York City NBC headquarters is located next to a Gorean role play neighborhood – where the belief is that women are inferior to men and can only be happy as sex slaves. What led to this unusual virtual juxtaposition?
To skate around the limited number of people who can visit a region in Second Life, the Christmas event planners are making 18 copies of the virtual event space — this should allow for around 700 visitors at a time. John Swords of the Electric Sheep Company – the consultants assisting NBC is this venture – took great pains to point out that there is currently a shortage of virtual land in Second Life. Mr. Swords said server delivery time at Linden Lab was a problem, "so pulling together land was was difficult".
When NBC was only able to rent 6 islands directly from Linden Lab, they turned to a 3rd party land dealer – Anshe Chung Studios for 12 more sites. According to Mr. Swords, "Part of NBC Universal's agreement with Anshe was that we would not have the sims moved." Anshe Chung's Dreamland developments include "Gothic/BDSM" theme areas so the situation was ripe for some unusual cross-pollination of online cultures – and thus we may be treated to a New York Christmas next to the sword wielding slave masters of Gor.
Further complicating the situation, the Electric Sheep Company's original plan to welcome visitors with a special signup and orientation area was not possible due to limitations of Linden Lab's current technology – a promised referral signup system is not yet functional. New users attracted to Second Life from NBC.com's web site will use the standard sign up process and orientation area. The ESC have engaged 20 staffers to shepherd lost new users to the 18 copies of the virtual festivities. In light of the neighborhoods where some of these holiday celebrations take place, the Electric Sheep's shepherd staff may also be working at keeping their flock from staying into the neighbor's pasture.