by Pixeleen Mistral on 27/11/06 at 6:59 pm
Will Squash triumph again in the Grand Basho Cup?
by Ebenezer Pixel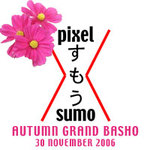 Sumo wrestling in real life is an ancient sport of heavy men trying to push each other out of a small ring or trick the competition into falling out of the ring. In SL it is a "come as you are" sport of competitors trying to push or trick one another off an elevated, 6 meter diameter disk. SL Pixel Sumo began in March of this year and now has a large following ensuring matches every week – with the prestigious Autumn Grand Basho at the Pixel Sumo Dohyo to be held in Ilgop at 8pm SL time, Thursday, 30 Nov 2006. The Grand Basho features ranked wrestlers competing for a huge prize (300L$) and the Pixel Grand Basho Cup.
Last saturday was a warmup match for the Grand Basho, and a great crowd turned out on for the saturday night matches. With only one returning wrestler and a batch of newcomers, it was a night of surprises and excitement. Lag was the theme of the night as record numbers of citizens in SL seemed to affect everyone a little bit.
In round 1, returning competitor Changurr Cao lost to December Frontenac. Tommy Takahe defeated American Antfarm. Squash Antfarm beat Laura Saltwater. Laura got another shot to wrestle, but came up short against Emma Gardiner. American beat out Changurr in the round 1 rematch.
Round 2 matches put the round 1 matches against each other. December handily defeat Tommy with a quick strike that pushed him from the ring. Squash and Emma went head-to-head in a long well fought match but at the end she unexpectedly jumped from the ring thus being disqualified. Emma's exceptional spirit in the ring gave her a second chance and met American in the round 2 rematch where she put up a great fight but lost.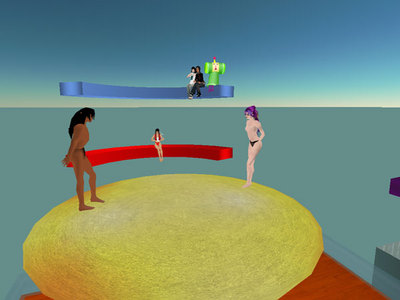 Squash and December in saturday's finals
The final matches of the night pitted Squash against American. Another long well fought match but Squash stood victorious as American fell from the ring. This set the stage for the champion match: Squash versus December. They faced off in a long match, back and forth, both wrestling with great precision, but in the end it was Squash that stood alone in the dohyo.
As per the rules of Pixel Sumo, Squash was awarded 150L$, the Pixel Cup for Matches #9, and 2 points granting him the rank of Komusubi. Runner-up December was awarded 75L$ and 1 point granting her the rank of Komusbi also.
To learn more about Pixel Sumo, visit http://pixelsumobanzuke.blogspot.com. Matches are held most Thursday nights at 8pm, SL time.