by Pixeleen Mistral on 19/11/06 at 7:07 am
W-Hats envious of new libsecondlife entries?
by Pixeleen Mistral, Sports desk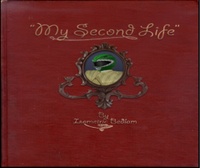 Over the last week, competition heated up in one of the metaverse's favorite spectator sports – the race to be the most stupendously ironic bad ass on the grid. A recent entry in the race may have jumped into the lead – by way of the infamous CopyBot and some trash-talking quotes from Mr. Baba Yamamoto reported at SLUniverse.
A measure of just how concerned some competitors are at these development is a lovely picture book I was given yesterday by another competitor – a goon associate (Undead Monstre) of Mr. Isometric Bedlam. Mr. Bedlam is known for general greifing such as appearing uninvited in SL bedrooms while avatars are slapping pixels – but he has been banned from the metaverse for some time now. His new book is called "My Second Life: A Novel of Words: a introspective from an introvert" – a copy of which I have left rezed in Sanchon sim next the Herald news vendor, boats, and landing pad. Between Mr. Yamamoto and Mr. Bedlam, we can see similar strategies in the race to make a name – even a bad name – for oneself in the metaverse. Apparently the winning strategy in the SIBAR (Stupendous Ironic Bad Ass Race) is being both a supreme bad boy – and having the smarts to walk the line – or perhaps the right connections?
With all the attention given to Mr. Yamamoto's quotes such as, "we should send a press release to all the SL news agencies with humorous h4×0r talk about all the shiz we can do with libSL to steal and cheat" and "i could care less at this point what assurances LL gave us", and "now we're gonna steal your shit haha and run away with it" is anyone surprised that the W-Hat/Something Awful/Satyr/Baku crowd is reaching out to influence the judges?
For those just catching up with the local sports scene, Mr. Yamamoto and some public spirited individuals thought that it would be good for Second Life if they distributed a tool to simplify object and texture theft from content creators. Predictably, content creators reacted negatively to this development. Pulling a screw-the-economy move is not really enough to get into the SIBAR running, however. It takes more – and Mr. Yamamoto found that extra something by publishing the incriminating chat logs at his web site here after they had been made public by SLUniverse. The judges score double for ironic comments – as Mr. Yamamoto is well aware.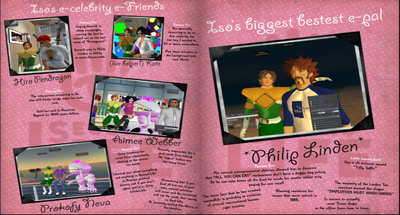 Are Isometric Bedlam and Philip Linden best friends?
Evidently feeling a bit under-appreciated, associates of Mr. Bedlam felt it best to produce a scrapbook that highlights the now-banned Mr. Bedlam putting his arm on the shoulders of notable Lindens – including our leader Philip Linden and other public figures in SL such as Prokoy Neva and Aimee Weber. Reproduced here for your edification, the multi-page manga-style book seems to make the case that goons have friends – or at least acquaintances – among the Lindens. Ironic style points are certainly a goal of Mr. Bedlam based on the pithy comments to adorn the celebrity snapshots in his book.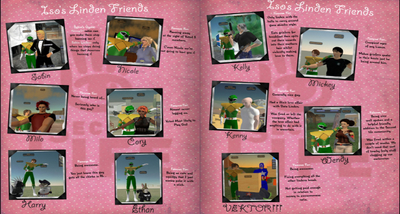 Is Aimee Weber the only person left who thinks wings are cool?
The race is by no means over, and long time residents suggest it is ikely that more excitement awaits us all as the contestants vie to cyber SIBAR the grid.