by Pixeleen Mistral on 03/11/06 at 8:57 am
What does it take to be the Web-3D market leader?
by Stef Wade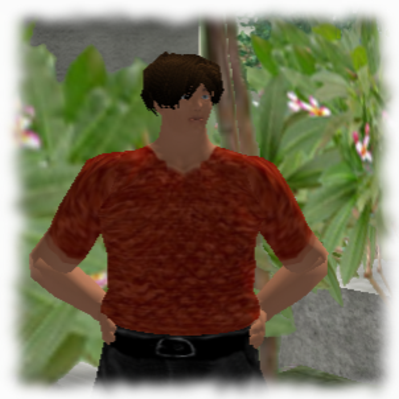 Stef Wade ponders how to level up
It is no secret that the Second Life client puts quite a strain on many computers. The german blogging scene is discussing some technical insufficiencies which can be found in Second Life. Some go so far as to say that as soon as big companies with experience in MMOs begin to realize how much money there is to be made in virtual reality, Linden Lab will soon lose its market leadership. Sony and EA are mentioned as potential rivals to Linden Lab.
But I believe that it will not be the superior 3D-engine or better client performance that will decide who will be the market leader in virtual reality applications. Instead, this will be determined by the other factors:
* External Access: Can I manipulate my avatar and inventory somewhere outside of SL? Can I do so using standard tools – like an ASCII-editor? Can my self-made (or bought) software access my avatar? Can I backup my inventory to a DVD and put it into the company's safe?
* Open Servers: Do I need to have my Sim hosted at Linden Lab or can other servers be integrated into the metaverse? Are there interfaces to other VR-providers? Can I decide myself, how much computing power I want to dedicate to my sim? Servers should be able to implement different features. Today there are regions with "Restricted llPush" or those rated "M" or "PG". Server admins should be able to decide which features they want to support. I could imagine servers which support more avatars in one Sim, but restrict textures to three basic types: Building-texture, clothes-texture and plant-texture.
* Integration of the Old-style Web 1.x/2.x: I need to read my e-mail, websites, RSS-feeds and other things in the virtual world. Can I edit them there? In order to spend my working day productively in SL, I need the same possibilities I already have on my RL PC.
* Integration into the Old-style Web 1.x/2.x: It should be possible to fetch any kind of data from "regular URLs" and store it there. I want to be able to host inventory lists, textures, clothing, whatever on my servers on the "old web". HTTP and WebDAV are already available to do that. This would also ease the performance problems, if SL-sim-servers would only store references to the real location of the data. That data could be hosted on web servers, which use optimized and tested techniques for high traffic sites (load balancing, high availability, …) Also, the "external access" would be much easier.
SL-shop, web shop and real-life bookkeeping could work on the same database. SL-transactions would be recorded straight into the regular bookkeeping. And if I host my inventory, my buildings and my avatar on my company's server, then daily backups should be no problem, right?
* Integration into "real life": SL needs to blend into RL like the "old internet" has done. The border to virtuality must not be recognizable. At least not more than entering a car or staring a web browser. SL, web and RL will blend into each other, and only if the difference is not noticed anymore, virtual reality will be a success.
It is not easy for Linden Lab to give up the monopoly they have in SL. But as far as I can see, it is the only possibility to be successful in the market. An open system will invite competition to the LLs own court, but it will be the only way to prevent the marketplace from splitting into many small pieces.
Linden Lab will make money as specialists with a lot of know-how in SL. As a VR-hosting-company, so to say. If they want to be the sole supplier of virtual reality, they will suffer the same fate as CompuServe, AOL and MSN: As closed platform none of them was able to gain leverage over the others. When the open competition Internet came along, none of them was able to sustain their old business model. Today, all three are regular content providers which have integrated more or less into the open system, the internet.
Also, manufacturers of closed computer-systems (Commodore, Atari, Apple, Sinclair,…) had to recognize that their decline began with the dawn of an open system, which integrated competitors. Except Apple, none of them is one of the big players anymore.
Resistance is futile…