by Urizenus Sklar on 03/11/06 at 10:32 am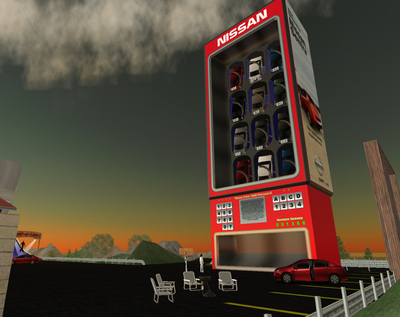 Or from JR Breed…

Screenshots via New World Notes.
A couple days ago our good friend Hamlet Au had a most excellent post on the traffic drawn by the Nissan build vs. that generated by indigenous car guy JR Breed. Hammie does a good job of quantifying the fact that JR gets more visitors, and while defenders of the Nissan build have plenty of excuses (vending was machine broken, JR has camping chairs), the bottom line is this: The Nissan build just doesn't get what SL is all about, and that is…
…commuity and socializing. No one is impressed by a giant sore toe of a vending machine standing like a 20th century rust belt monolith in a land of furries, elves, orcs and blinged out cyberpunk gangsters and hos. For that matter, no one is impressed by a structure that is just sitting there. Second Life is not a billboard for rent, it is a place for socializing, and given that I have to ask myself this:
What in sam hades was Nissan thinking? Did they think that people would stand around the giant vending machine and stare up at it in awe like the hominids in 2001: A Space Odyssey? Did they think people would look at that machine and say "wow, my next car is going to be a Nissan?". Or did they think they were going to mine valuable data from the camera angles of the avatars as they watched the machine dispense their new Nissan, and as they placed it in their inventories to be lost forever with 40 thousand other freebies?
Second Life really truly is a *social* platform above everything else, and one thing that JR Breed offers that Nissan absolutely doesn't is a fun place to go to and talk to about cars. JR is blinged out in just the right measure and his garage has that Too Fast too Furious tone just right; you are wondering when Vin Diesel is going to show up. But above all you get the sense that this would be a fun guy to talk to, especially if you are into cars or car culture. You also sense that you might meet *other* people who are into car culture there.
Now in contrast, what does Nissan offer? Not a fucking thing. Would it *kill* them to hire a couple grease monkeys at 20K per year to just sit around in a virtual vacant lot or virtual garage and talk cars with people? Nissan might actually even *learn* something this way. But no, we get the impression that Nissan isn't here to listen. They are here to push cars at us, one by one, via a giant mechanical dispenser. No one listens. No one cares. We can almost hear the robotic voice saying "Please take your car. It is perfect. Move along please. Next."
Are people in marketing and PR really this fucking stupid? Ordinarily I wouldn't care, but when they start soiling an otherwise awesome place with giant vending machines, and anything else that is boxy it starts to nag at me. If you must be a fucktard, could you at least do it at home?