by Urizenus Sklar on 12/12/06 at 11:18 pm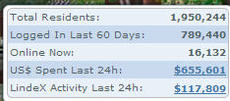 A few weeks ago, we reported an experiment by Anonymous, in which he wrote a script that allowed him to pass money back and forth between two avatars for an hour and a half. In that amount of time he was able to move the equivalent of $1 million US between his two avatars, and sure enough, the Linden stats for US Dollars "spent" in game spiked up $1 million for the next 24 hours. Linden lab essentially conceded that what this number measures is not dollars spent per se, but money changing hands. But changing hands for what?
I did a little experiment and you can do it too. On the "password request page" (and no doubt elsewhere) there is a graphic that lists the "last 10 transactions in world." I randomly refreshed this 20 times and took screenshots (10 samples on two consecutive days) at times when there were over 16,000 people in world. Then I broke things down into two categories: (1) clearly identifiable as gambling (including sploders, although those were minimal if frequent – blackjack is what accounts for most of the money), and (2) everything else. Here is what I found for the 200 transactions I randomly selected:
Clearly Gambling: $29,854 L (about 110.57 US)
Everything Else: $ 7465 L (about 27.65 US)
That is, 80% of the money trading hands in those 200 transactions was gambling.
Now, I caution that this is not a scientific sampling; it could be way way off, and I'm hoping someone can write a script that would collect and analyze the data in a systematic way. In the meantime, I'd be interested in the results that the rest of you get when you try this informal experiment.
Factoid: Of the $7465 L non-gambling payments, 12% went to dancers' tip jars!