by Pixeleen Mistral on 28/12/06 at 2:14 pm
by Pixeleen Mistral, National Affairs desk
As we approach year end, a joyous tradition is observed in the Herald offices – the selection of the coveted SL Herald Avatar of the Year Awards. As part of this solemn ceremony we present the most sought after and prestigious awards of the metaverse to the three avatars who most changed the news and the world for better – or for worse.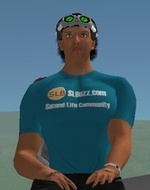 Last year, third place went to über griefer Plastic Duck in recognition of outstanding "achievement" in the stupendous ironic bad ass race. This year, 3rd place goes to Mr. Mark Barrett for his dystopian surreptitious citizen surveillance system – the SLStats watch. Developing a covert citizen monitoring system would not be enough to merit this award – it takes more to impress the judges. Mr. Barrett rose above the crowd by turning small scale snooping into wholesale spying on the citizenry at large – then publishing the results to the world.
To expand his SLStats system, Mr. Barrett distributed free wrist watches with secret citizen scanners because – as he told the Herald – he was concerned that not enough people would voluntarily participate in his avatar database avatar to be "interesting". In time, word got out that some residents' watches were secretly feeding a web database listing what could be chance associations between avatars as "friendships".
Strangely – at least from the point of view of the tekkie-wiki-istas – a firestorm of criticism ignited in response to revelations about the capabilities of the SLStats watch. Mr. Barrett and his fans were apparently surprised that there were complaints about collating and storing social information in a public searchable database on teh Intraweb. Stalking? Claiming friendships between cyber ho's and citizen's because they happened to stand within 100 meters of each other? Is this a problem? Besides, nobody really has privacy anyway so get over it and go along for the ride – this was the rhetoric of Mr. Barrett's fans. However, the public at large was not persuaded and a classic tekkie vs. resident flame war ensued in the Linden forums.
Over the course of the controversy we saw
- Torley Linden dismissing resident concerns as "noise" while posting Mark Barrett's responses to criticism in the Linden Answers forum as a favor to Mr. Barrett
- A general desire to opt-out of secret monitoring
- Grassroots pressure to limit the system to those that opted in
- Mr. Barrett's eventual addition of a skull and crossbones decorated opt-out feature requiring residents to opt in to the service to opt out of it – a fine Catch 22 – and asking three times if you really want out – with switched the yes and no buttons – part of a series of smarmy PR moves that cost him many allies
- Hermina Linden breaking ranks with Torley in the forums followed by a Torley apology
- Absolutely no clarification by Linden Lab about the what is/is not allowed for 3rd party social data mining services – despite of repeated questions from the Herald and others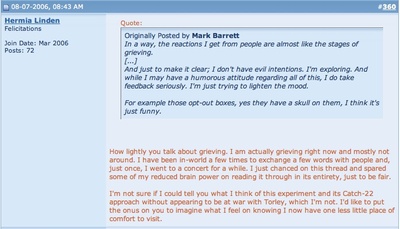 Hermina Linden was not a fan of Catch-22 opt out from covert monitoring
Ultimately Mr. Barrett decided to limit at the scope of his activities to only those who opted into the avatar monitoring system – and resident threats to shoot on sight anyone wearing a wrist watch subsided. Mr. Barrett and the Linden's attitude toward privacy, social monitoring, and data mining and tone-deaf responses to resident privacy concerns led to a deepening cynicism about the nature of the metaverse – but this was a case where public protest was heeded eventually. Was it only a coincidence that the Lindens announced the closure of the Linden forums a few days later ? The forum closure certainly raised the bar for citizen activism by nerfing a citizen-centric communication channel.
Mr. Barrett's third place award is a personalized wrist watch with certain scripts that have special functions we are not at liberty to disclose – we hope Mr. Barrett won't mind the uncertainty about what his personal award watch is doing with his private information.
Now that Mr. Barret has his own personal watch, our thoughts turn to those who surpassed him. Next up, we look at the second place finisher in the avatar of the year awards.