by Urizenus Sklar on 03/12/06 at 4:18 pm
Cages, fires, and guns, but "No Security Whatsoever"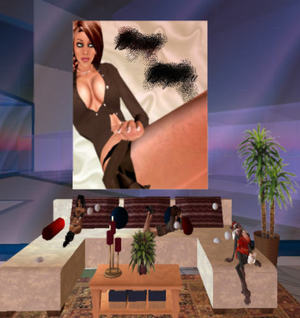 Anonymous crashes Big Brother house and griefs it for 4 hours. Leaves her photo as souveinir.
reported by Urizenus and Herald Jessie Stringer DK
Well, the SL Press corps is really good at hyping forthcoming hypervents, but they are not so good at telling us what happend at those events. It took two Crayonistas, for chrissakes to tell us what a disaster the Jay-Z concert was, and so far no one has stepped up to tell us what happened at the opening of the Endemol produced Big Brother in Second Life hypervent. And guess what? It was griefed hard thanks to an apparent lack of security. When are people going to learn that this is the freaking wild wild west, and you *have* to have event security and island security. This isn't about building eye candy and walking away folks! Bleh! Rookies.
Below the fold there is a two part interview with one griefer who is a cyberprostitute in SL and lives in the Netherlands in RL. (Apparently they were other griefers, but the griefer groups were independent. There is also apparently 40 minutes of fraps documenting this, but we have been unable to acquire the video.)
Part one of this interview was conducted by a Herald Stringer residing in Jessie that, for security reasons, we will just identify as DK. Uri does the follow up part two interview.
Part I, Interview with Herald Jessie Stringer DK
DK: So what happened at the Big Brother opening?
Anonymous: The residents had to walk over the red carpet before entering the house. But they were caged and set on fire. No security whatsoever. So then the 15 residents are inside the house. I manouvre my camera through the glass walls, place a simple prim, sit on it, and now I'm a resident too! I changed a group name to "Resident" like they had. So the first 4 hours I was walking an chatting with them like a real resident. I even got interview roflmao.
DK: that's mad
Anonymous: Pathetic. Oh my god I was laughing my ass off the entire time. Only residents were aloud to place objects in the house. Mine got returned to me 2 minutes later. So What I did was I got this female resident to make me a poster and put my picture on it. Its still hanging on the wall inside their house. Lol. I wasn't the only one. I saw a 50 feet transformer climbing the big brother house.
DK: Did you cage anyone?
Anonymous: No I didn't cage them, I burned some while in the house
DK: wonder if they had push turned on
Anonymous: No, They had it off
DK: smart
Anonymous: 2 crew members, That was all. One eventually asked me to leave after 4 hours rofl. But that was only after I tp the half of my friend list over into the house roflmao. Amateurs.
DK: those smug bastards lmfao
Anonymous: Indeed they got what they deserved. I made a pic. Thats me with 2 other BB residents. And the poster on the background I was talking about. Took it as a souvenir
Part II, with Uri
Urizenus: Can you be more precise about how you got into the house?
Anonymous: So anyway all the residents gathered in the top room of the complex. So I flew up to the roof, placed a simple prim cube, sat on it, and edited it to go down vertically. Used it as a lift as you will. Stood up and there I was in the house, lol. Just put up my Resident Tag.
Urizenus: so what kinds of things were happening. caging , fires, what else?
Anonymous: Well after I made some comments like "Yay I'm on big brother" and "look mom I'm on tv"
Anonymous: Other people were coming in too
Anonymous: Then I discovered I could TP friends over
Urizenus: omg
Anonymous: So I got about 10 friends in the house. One got banned from the sim. That was the only act of security I saw all night.
Urizenus: how come you didn't get banned
Anonymous: Maybe because I had a Resident tag above my head
Anonymous: And the one that got banned was in a wheelchair with a rocket hat on. So he kinda stood out from the crowd.
Urizenus: yes that is a dead giveaway
Anonymous: So 4 hours later a crew member named Willem Weiland asks me nicely to leave the house
Urizenus: ic, and you left then
Anonymous: Yeah I had my 4 hours of fame and was about done laughing my ass of. So I thought I'll just leave without trouble
Anonymous: Btw I left a nice souvenier
Anonymous: A big poster of me in one of the rooms
Urizenus: is it still there?
Anonymous: No it got removed about 6 hours ago dammit!
Urizenus: awww
Anonymous: King Wallace and Willem Weiland were the only 2 crew members
Urizenus: So why did you want to grief this event?
Anonymous: I didnt go there to grief it just all kind off happened
Urizenus: ic, well would you classify yourself as a griefer?
Anonymous: I have an alter ego yes. But I'm not a full griefer in that sense. I do have some respect for this world
Urizenus: Why did you go to the big brother event, are you a fan of the RL show?
Anonymous: Well I'm from The Netherlands, and as you might know the tv concept of big brother was invented here, and it was in al the newspapers in Holland. So I thought It would be this huge event with lots of media
Anonymous: Then I kinda got the idea 'hey I could ruin this and It might make the newspaper or tv
Anonymous: So that's what set me off, lol
Urizenus: ic
Urizenus: So when I report this do you want me to list you as Anonymous or can I use your name in the logs
Anonymous: Hmm
Anonymous: I dont know Uri
Anonymous: Am I taking a big risk?
Urizenus: you could loose this account, I won't lie to you
Urizenus: take your money out of this acct in any case.
Urizenus: I mean they already have a record of whatever happened
Anonymous: How do you know?
Urizenus: they have all that info… it doesn't disappear… they can go back and review it after a griefing event. If they feel like it.
Anonymous: Well I haven't heard anything about it yet
Urizenus: The Lindens may be too busy to care.
Anonymous: I'm getting the idea that they are not as professional as they want us to believe
Urizenus: gee do ya think?
Anonymous: lol