by prokofy on 27/12/06 at 12:14 am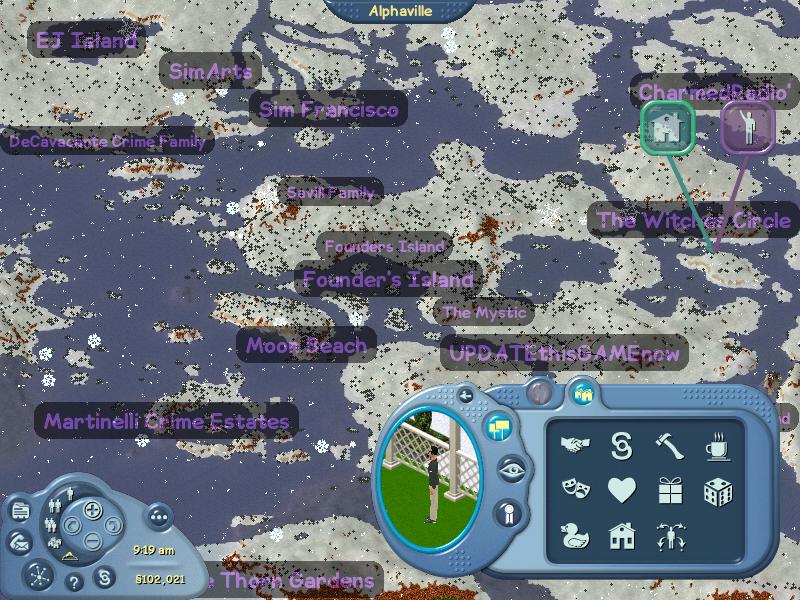 By Dyerbrook, Dept. of Family Holiday Fun

Yes, home is the place, where…when you have to go there, they have to take you in. Tired of lag, grey squares, missing textures, bots, bits, and bobs? There's always The Sims Online, home for many of us who write, read, and comment on the Herald.
TSO is where the Herald got its start as the "Alphaville Herald" in fact. It's a game many long left behind, but in fact, they occasionally sneak back just for the sure joy of having something reliably work, petting that rare dog in inventory that took months of culling to find, and checking the map. Your TSO account probably still works — they keep them forever — and it's a bargain because they never charge tier there.
SimArts is still on the map; also on the map are those roof artists of the type we find now in SL in places like Jinsil with their giant PLEASE FIX SL; on the TSO map we can now see a neighbourhood called: UPDATEthis GAMEnow! Seems to speak to a lack of erm…content.
Checked my inventory — neither my 3rd OR 4th anniversary presents were there yet despite complaints. But there's snow on the ground, a fire crackling, the pooltable beckons invitingly with balls that don't go offworld, and jamming now garners a whopping $3000 simoleons at the best establishments!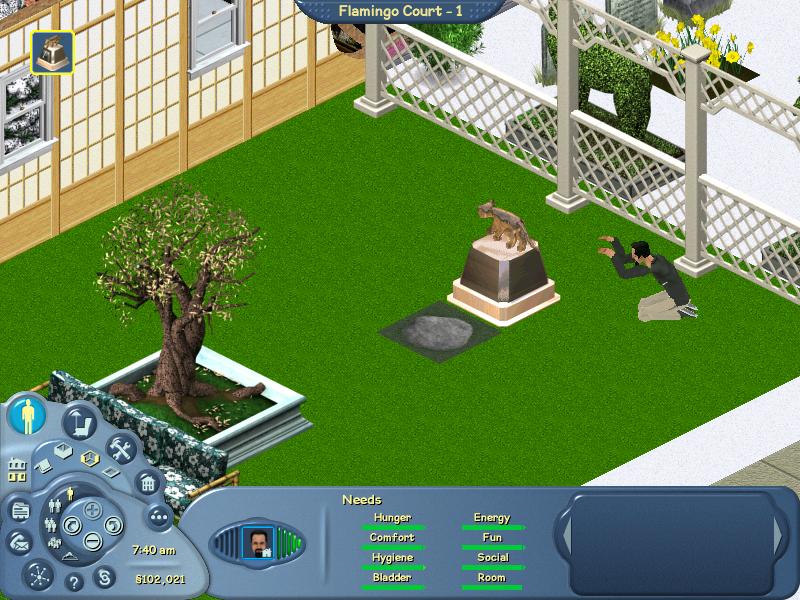 Elsewhere in the news…scary to find friends like Jingle I had ages ago *still there* with the balloons still green and "995 days" written on them…wow!
And sad to see Will Wright's secret alt now missing from the list of sims….: (
"Modeling agency" seems to be the new euphemism for hot-tubbing and "typing suggestive words" which is how Jeff Brown used to describe it–a modeling "show" costs $30,000. Too bad they weren't online.
The "offbeat" category is so underused since we all left that you can still find Chrestomanci's Coffee Shop on the list, and SimGallery *still* set to look like that interesting first "mixed-reality mash-up of its time — the Timex Gallery in Westport — a wierd kind of frozen moment, that, eh? Takes a lickin' and…stops tickin'.
So…if you're homesick for pet-culling parties over faux mulled cider in the punch bowl; if the desire to have interactions like "give gift" and "jitterbug" and "hot kiss" come for free instead of for $250 a pop, let's set a time to go to the Old Sim Place and see if we can't scare some pizza bots or something…
This is Dyerbrook reporting from Alphaville at the Flamingo Court Motel. Challenge Everything!