by prokofy on 26/12/06 at 12:13 am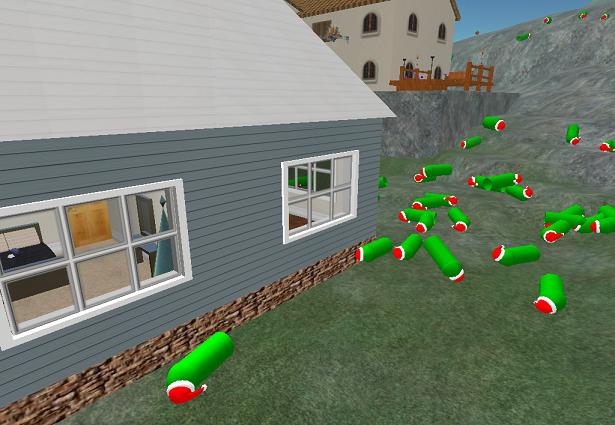 By Prokofy Neva, Grief-Watch Dept.
Thousands of red Santa-capped green penises rained down on Second Life in the closing hours of Christmas Day on the grid, sending many residents into a panic to try to return the self-replicating objects before they displaced builds — and crashing SL entirely for others.
The grid-wide spam attack was unleashed by a new alt called llMakeExplosion Toll with an object entitled "Christmas Present". The name was not fully visible on the object as creator and owner but the full name was later found on the avatar profile with the single description, "llGrief(TRUE);")
Penising is the typical M.O. of W-Hat and its offshoot groups. The last such attack was just last week — in that case with pink penises — on CNET's interview with Anshe.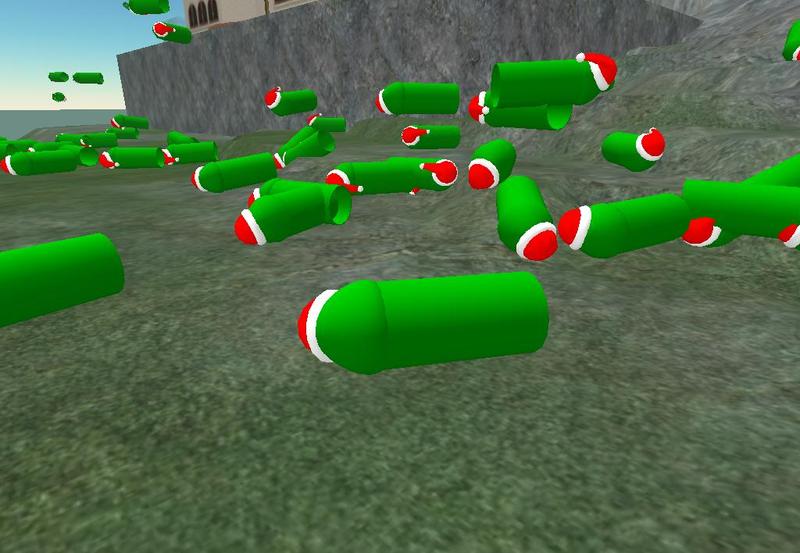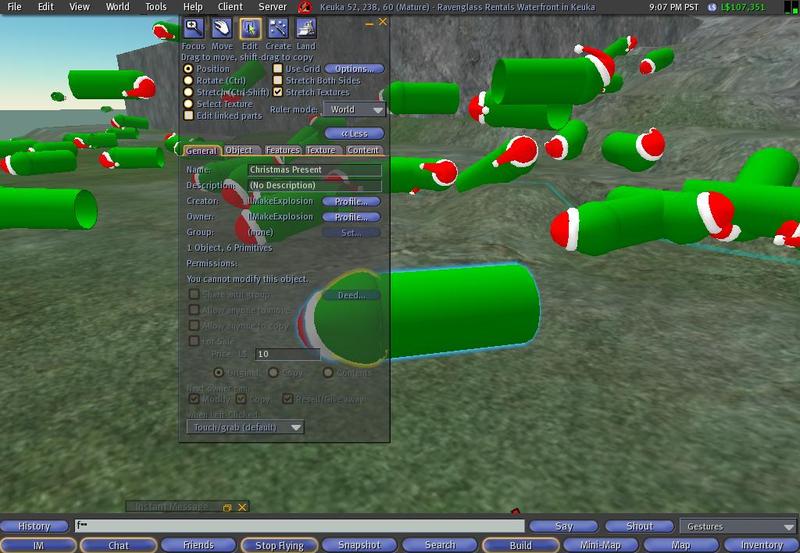 In an apparently related action, Partyhats Loll, another W-hat new griefing alt, spammed people with perverse "Helpful Griefing Rant" notecards saying
"One of the most important issues in Second Life is griefing. Names such as Plastic Duck, Cubey Terra, and Pathfinder Linden are infamous for causing disruption and chaos on the grid. Skilled griefers can even take down sims using a single malicious object. Some griefers infiltrate cultures, becoming authority figures for people who have no clue as to their hostile intentions," etc. etc
Of course, Cubey Terra, a long-time prominent creator in SL, along with Pathfinder Linden, are falsely portrayed on this spam card as "griefers" by the author.
UPDATE 9:45 PM SLT: Only one Linden appears to be online and Live Help (now known as Help Request) does not appear to be answering. Support is closed for Christmas. I've crashed twice trying to clear away the yuletide cocks but they've subsided a bit and I see that llMakeExplosion Toll is now gone from the People List. The objects remain all over where people don't have autoreturn on, and they make a kind of wierd cackling sound. The grid is still up.

UPDATE 10:15 PM SLT The grid remains up, though individuals have reported crashing. The attack is under control. The Lindens now appear to have the ability to remove objects in one fell swoop by name, as we saw them disappear instantly on multiple sims before our eyes.