by Pixeleen Mistral on 17/12/06 at 7:11 pm
Maker claims 1000 Elemental vehicles distributed in 36 hours
Can established vehicle makers respond to viral vehicle marketing?
by Pixeleen Mistral, National Affairs desk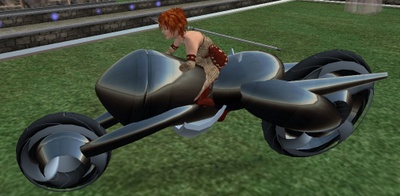 One of eight forms in the Element Multiform Vehicle
I was hanging around Sunset Beach when GuardianAngel Falken dropped by with a vehicle that "some cool nice dude" gave him – the Elemental Multiform Craft. At first it looked like a metallic oversized acorn, but as GuardianAngel put it through its paces, the acorn did a sort of transformers magic and became a car, speedboat, submarine, plane, airship, motorcycle, helicopter and hoverpod. Somewhere around the 4th magical morphing I knew I had to have one of these – I just bought a new katana last weekend, and when I'm not writing for the Herald or yacht racing I've been thinking of moonlighting as one of the Deadly Viper Assassination Squad (DiVAs) – from Kill Bill. I'll need a good bike for that – and now I have one – for free!
Rather than try to entice Second Life citizens to an island or a vendor, Kage Seraph has his customers spread the world – and the product. To get your own copy, just find someone who already has an one and click on their Elemental. You'll get a HUD that includes controls for rezing your own Elemental and customizing it. In other worlds – this is a fascinating case of viral marketing – and a über cool product to boot.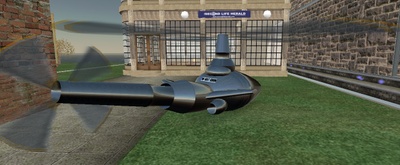 Herald helipcopter for metaverse traffic reports
After a quick test drive, one of our sources give the Elemental a positive review saying, "It's very sophisticated, like someone knew everything that had been done previously, laughed and did it way better". The question is what this does to the 'established' general purpose vehicle makers.
A problem with this sort of citizen-based distribution could be getting updates and new versions out to the customers – but Mr. Seraph has sidestepped that problem by having the HUD and Elemental check for new versions and automatically update themselves. This sort of mass distribution by the masses also removes the need for lots of shops and stores – since each product is it's own store.
When I spoke with him, Mr. Seraph was not particularly interested in establishing a chain of stores – he simply wants people to enjoy the toy he made and if they are inclined to contribute to charity – see the interview below.
It may not be long before we see a similar approach taken on other products – where rather than free viral distribution – a payment goes to the creator – but perhaps there are limits to the Second Life platform that make this impractical. It is an interesting question if it is in Linden Lab's interests to enable commerce that is not tied to land and virtual stores – since the Lab is itself in the land rental business.
Looking for reaction from one of the established named in the Second Life vehicle business I asked Cubey Terra if a free product that updates itself automatically was any threat. Mr. Terra said no- but admitted that this was the first multi-mode vehicle he had seen for free.
After talking with Mr. Terra, I continued playing with my Elemental a bit, customizing it from a large selection of vanity license plates – I eventually settled on W-HAT GRIEFER in the hopes that it would keep the vandals away from my ride.
We don't really have a car park, so I left my Elemental outside the Herald offices in Hyperborea sim – I hope nobody scratches the paint job. Now if I work on my katana skills perhaps I can get a job with the Deadly Viper Assassination Squad. I knew there was no chance if I was stuck driving a Scion – but with a Elemental I think the odds are improving.
---
Interview with Kage Seraph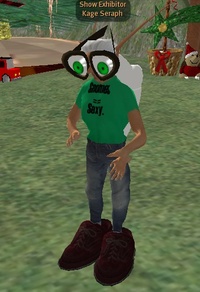 PM: so I got a copy of the Element from a friend – is that part of a marketing strategy?
PM: I mean it was great to click and get a copy of the HUD – but that seems a little different
KS: Hmm. I guess I hadn't really organized it in my head as marketing; more just that I enjoy vehicles in SL and hoped that others could enjoy the Elemental as well if they wanted to.
KS: At some point, I will offer to accept donations for it if people like it, but it will always be free (I'm a terrible businessperson).
PM: so you are into this for the joy of inventing?
KS: Very much so– if you're familiar with the Myers Briggs personality thing, I'm a strong INTP, and apparently folks like me really dig tinkering and inventing.
PM: nods
KSh: So it's been kind of a wild ride… about a thousand Elementals served in the last 36 hours. I never anticipated that people would pass it along the way they do.
PM: well it is uber cool
KS: I had to recode the server because it couldn't accomodate the demand. But at the core of it, I just got tired of driving and getting stuck places when things would rez late, you know?
PM: I sure do
KS: So I took a page from Francis Chung's Dominus and added a flight mode, and another, and another, etc.
PM: yes this is the swiss army knife of vehicles
PM: you have an interesting way to distribute the Element – it seems like it is getting the things to rez from a server somewhere
KS: Ya. As a grad student I can't afford a big store plot and advertising and things, so I figured, heck, just make it free and easy to get if people want it. Less stress for everyone, I think.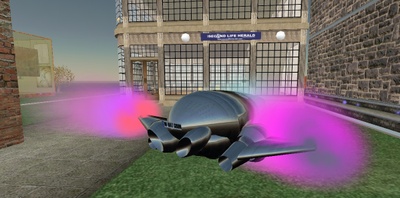 it's a bird – no it's a plane!
PM: you said the server was having a hard time keeping up?
KS: Ya, currently it's serving between 1-4 a minute, and with all the bookkeeping, the requests for new ones and updated ones were piling up. So the server got put on a diet. =) I'll add another one later this week, before folks start coming home for the holidays and the grid gets REALLY busy.
PM: so how does that work exactly?
PM: the hud requests something from the server?
KS: How does the server work?
PM: yeah
KS: Yup. When someone clicks the elemental, a request goes out to my website, which replies with the server's key. Then an email gets sent to the server with the requestor's ID, and the server replies by sending a fresh, updated HUD (with the Elemental inside) to the requestor. Total process takes about 15 seconds.
PM: why did you do it that way?
PM: what is the advantage?
KS: Haha! I'm a forgetful kind of dork and I have accidentally deleted servers several times. So adding the website step in there makes sure that even if I dork out, the Elementals that are out there can still stay in contact with the replacement server.
PM: makes sense
PM: are you planning newer versions or is this one pretty much done?
PM: of the Elemental, I mean
KS: The Elemental is still very much under development. Right away people started IMing and saying "hey wouldn't it be sweet if it could also do X-Y-Z?" And of course there are awesome ideas, which gets me excited to do them, like adding surfboard, street racer, skateboard modes.
KS: I also really liked the idea of making it scalable to tinies avs too. <3
PM: I can see that
PM: you have some big shoes to fill LOL
KS: So people have just been so nice and encouraging
PM: well its refreshing to see something new and fun
PM: so as you add new features – do I need to get a new HUD?
KS: Yay! Ya, when the HUD or Elemental gets updated, the new version automatically gets sent to folks when they equip the outdated HUD. I try to make the whole process painless and streamlined.
PM: so that is another nice thing about the server deal
PM: less trouble for you
KS: Easy peasy. =)
KS: Yes. Technically I'm supposed to be doing lots of academic research and all that in RL, so streamlined equals fewer migraines. Ha!
PM: laughs
PM: so this is sort of a break from the serious stuff
KS: You know how that goes, right? Yes, definitely. I started in SL as a way to relax and play around with this crazy world, and so far that's meant developing giant mecha anims, the tinies anims, and now the Elemental. Odd that scripting is relaxing, but it is. Different strokes for different folks. =)
PM: well I'm glad you like it
PM: I've already had a great time with mine
PM: have you heard from any of the other vehicle makers yet?
PM: Cubey Terra or those people?
KS: I'm really glad to hear it– that's all the payment I need. I have not yet heard from any of the big designers yet, but they've always been super friendly in the past. Cubey, Jillian Callahan, Jon Marlin, Huns Valen, Jesrad Seraph, Compulsion Overdrive, several others.
PM: cool
KS: I like that. As SL grows toward more millions of accounts, it's nice that folks in the scripting community are still like a small town. Very cool stuff.
KS: Not that I'm a great scripter.

PM: anything I should tell the Herald readers?
KS: If they like the Elemental and want to give a donation for it, 100% of the $L will be cashed out and sent to supporting the Kibaale Community Center in Uganda, http://www.paoutreach.net/pages/kibaale/kibaale_home.htm
KS: It is a charity that does a lot of good stuff.
PM: if people want a copy I guess they should just look for a friend with one?
KS: Yup, or they can IM me or find the (tiny) spot in Deneb with the Elemental on display near the center of the sim.
KS: I'm just standing on the shoulders of giants… the credits list for the Elemental has something like 2 dozen folks on it that provided freebie vehicles that I learned from and who have provided bug reports.
KS: LOTS of bug reports. Haha!
PM: I'm sure you will get more
PM: lol
PM: but that's part of the fun
KS: True true. Yeah it sure it, and it means that people took the time to help out, which is hugely generous.