by prokofy on 30/12/06 at 5:37 am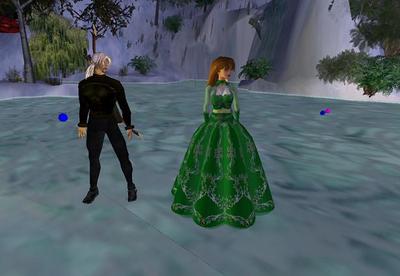 By Prokofy Neva, Community Affairs Desk.
A dragon roared. An imposing arctic wolf white lion flourished his cape. Arrows whirred, and mushrooms in the glen glistened. Our lovely elven hostess, decked in a moss-green holiday gown, beckoned to us to dance, and Herald reporters skidded across the aquamarine ice. Jaycatt and a Frogg were on the piano and guitar, and a good time was had by all.
The party was the first of a series of events in ElvenGlen staged during the holidays by Forcythia Wishbringer and friends at Elf Circle. We watched as a $100 US was raised the first night in an hour. By the the end of the week, the elves reported a total US $830 was donated by SL residents for the charities Toys for Tots, Habitat for Humanity, Doctors Without Borders, and the Red Cross.
More pictures after the fold.