by Pixeleen Mistral on 15/12/06 at 4:32 am
LL's database and asset server left uncovered outside
by Pixeleen Mistral, National Affairs desk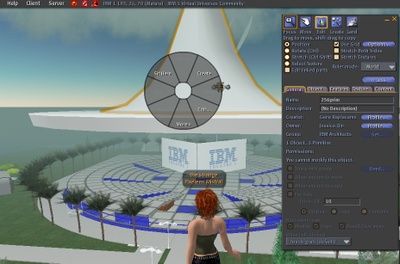 Gene Replacement created IBM's roofing material
The metaverse reeled today as investigators claim to have discovered the source of the persistent database and asset server problems in Second Life – and why computer giant IBM's theaters in Second Life use building materials from the notorious Gene Replacement.
The problems appear to have started with an overloaded server room at the Linden Lab colocation facilities – resulting in serious overheating and power problems. After consulting the Love Machine project management system, Linden Lab technicians decided to move the database machine for the entire metaverse outdoors onto the lawn – without even a tent to protect it from the elements! I went to investigate these outrageous claims and confirmed that there is a mainframe on the lawn in the IBM islands – and a surprise over the theaters.
The assert/database server – an aging IBM System 360 with several tape drives – was moved onto the lawn in the IBM islands where Unverified Linden had promised to cover it with a tarp. However, it was found that the bulky mainframe was far too large to cover with a 10 x 10 flexi prim, so Unverified turned to a clever hack on the metaverse – Gene Replacement's megaprims – which exceed the official Linden-blessed object size limits but are somehow still OK to use anyway. Herald readers may recall Gene as one of those involved in covering Satyr sim with something awful – skywriting of questionable taste.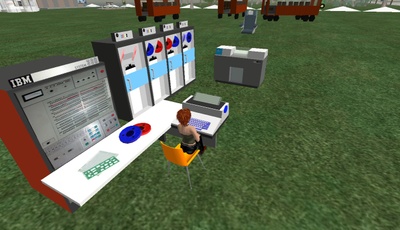 Your SL assets are stored here
While Unverified Linden swears he really did cover the asset server with a megaprim tarp, his work was soon undone by builder Jessica Qin when she needed a tent to cover IBM's enormous outdoor theaters – and used the megaprim tarps as impromptu roofing material. This accounts for the interesting sight of a corporate giant's theatre roofed with building materials created by Gene Replacement – a notorious and permabanned – griefer.
But what of the asset server? To date, it has not rained on IBM island, so although resident's inventory is sometimes lost due to tape errors, the metaverse chugs along. Evidence that Lindens are serious about fixing problems in the search places functions of our world are clear. I spotted a flow charting tool, and some cobol coding forms on the desk by the asset servers front panel, and Unverified Lindens initials in the margins. As long it it never rains, everything will be fine.