by Pixeleen Mistral on 29/12/06 at 9:28 pm
Pathfinder Linden backpedals immediately after boasting of new record
by Pixeleen Mistral, National Affairs desk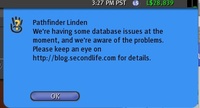 For those of us in-world at the time, there were the usual signs that something was up. I saw a normally male pirate materialize with frankly feminine figure and oddly textured clothes, another resident complained of having all her money and friends disappear, a visitor to Sanchon was unable to teleport home, and I could not pass notecards to anyone. Was Second Life broken again?
Our fears were confirmed when everyone's favorite blue box of joy appeared on the screen – Pathfinder Linden was telling the metaverse what was already apparent – something was not right. What makes this humdrum day special is a little dab of irony that appeared on the official Linden blog – Pathfinder Linden begging residents' indulgence for database problems immediately after crowing about reaching 20,000 concurrent users. In Pathfinders words, "…we're still working on the database issues… it's unfortunate (ironic?) that this happened just as I posted this announcement to share the fact that be broke the 20k concurrency mark". No arguments here.
Based on the overwhelmingly negative response to this blog entry, several hundred residents wanted something more than happy talk about the excitement of uncontrolled growth and unplanned grid outages. There were over 300 comments posted in 3 hours as we went to press – here is a small sample of the sentiments expressed
Martha Glitter: "woohoo, 20,000 users, all without bodies, hud attachments, scripts, clothes, WORKING friends list, IMs… yeah, great milestone…. no, maybe we can get this thing to actually become STABLE?????"
Teleute Bolero: "Big woop – the number is there but what about being stable? I was unable to purchase an item nor use my inventory as "an item was pending" …. log off and on… no body, no money, no inventory, no friends list…. ya, good to know 20,000 people are there but none can see me."
Ravanne Sullivan: "I guess that is why I can't TP, can't cross a sim border, can't rez an item from my inventory, can't get a good search…… The list goes on. What good is having 20,000 people online if your paying customers are screaming because they can not preform the simpilist task in world?"
Some speculated that an almost immediate drop in the number of metaverse residents online was caused by the Linden Lab staffers closing logins as the struggled to deal with an unruly – or unresponsive – database.
In any case, after a day when the world was mostly offline due to un-planned asset server maintenance issues, the game god's excitement at hitting a new peak load may have been tempered by the resident's concerns with the spotty performance of the world.


earlier in the day – sick asset server