by Urizenus Sklar on 20/12/06 at 6:20 pm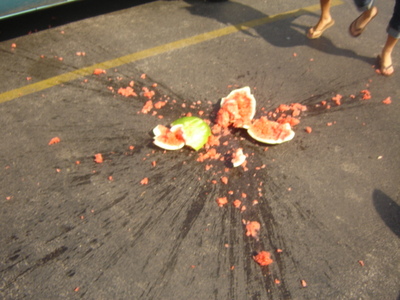 Yes its true. The Lindens thought they had found someone so lovable, so cuddly, so godawful cute and sweet and vulnerable and … did I say lovable? .. that not even the biggest tool in the metaverse could hate on him/her. Not *even* the Herald could get smacktalky. And truth be told, no one really hates Torley, but they are starting to get fed up with the Linden ploy here — it is sort of like hiding behind their little kid so that we have to watch our language and be nice to them. But the problem is that gridwide problems are serious fucking issues that demand some F-bombs and smack talk now and then thank you very much, and they also demand clear responses in reply. The situation has gotten to the point that Lordfly Digeridoo has completely blown a gasket on his blog:
Now that he is the official mouthpiece of a confused (and vital to some of our livelihoods) organization, I'm finding it really hard to read him, even now, in my RSS feed.

Rice Farmering? LOLEX? LOLLERSKATES? Resis? Multiple viewpoints inside one person? What in the fuck?

I appreciate his enthusiasm, but you shouldn't be sticking someone with a social disorder (Asperger's) in center stage to answer/field 1.6 million residents (sorry, LOLEX RESIS RICE FARMERERERERS), especially when said 1.6 million residents need answers that are quite important (where's my stuff? Why is the grid down? Why can't anyone find my store? Why am I crashing?)

I know there are some folks that are going to take umbrage against the torley bashing, but… seriously. When there are problems with the grid, I don't want emoticons and ramblings about square watermelons in alternate dimensions. I want Robin Linden or Cory or someone to come on the mic and say "hey guys, shit's fucked, we're working on it, wait a sec".
This is followd by a response from Torley and a point by point rebuttal from Lordfly: I dunno, sometime you just miss Jeff Brown.
Thanks to Torley for the pointer to this rotting watermelon video!
Some passages from Lordfly's response to Torley:
If I may make another opinion, the Lindens are using you as a shield, Torley. Because so many people like you personally (including me, as I mentioned in my other post), LL throws you up into the spotlight whenever there's a lot of flak coming your way. You are the meat shield to take the shots. It's reprehensible. They shouldn't be trading your good standing with the community to save themselves from a week of harsh criticism.

[snip]

But the other Lindens are communication black holes. People cannot communicate with them. Any communications that DO get through are never followed up on. Bugs reported by thousands of people go unfixed for years. YEARS. Social issues are ignored until they reach critical mass. There is zero proper communications coming out of LL anymore. It's not your fault, you're just their meat shield to take the arrows from jackasses like myself.

[snip]

Your strength lies in social situations, not blogposting. The Lindens should be having you in-world organizing events, promoting the good points of SL. They should not be throwing you to the wolves of the community every time they break their own software.

[snip]

In short, I'm just one dude trying to make a living off this platform that, as it stands, is held together with duct tape and a prayer. I see the Lindens, even though they are great as people, fail as a company every time they let you get punched around on the blog. You're not cut out for it. You should be talking to people directly, not from the ivory tower of blogging.