by prokofy on 14/12/06 at 6:29 am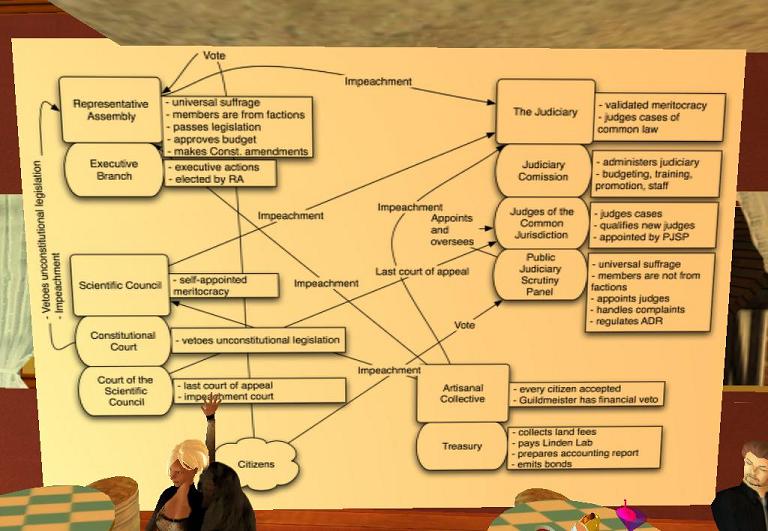 Rube-Goldberg-style government plan for Neufreistadt; best to eat sausage than watch how it is made.

By Prokofy Neva, Communitiy Affairs Dept
SL is teeming with lawyers and judges! With Big Business coming into SL, can the litigators be far behind? Law, after all, is a business, too. Remember those two college kids who made the Metaverse Superior Court until Kremlinden Lab told them they couldn't use the name "Second Life"? They didn't make it past winter break, but we are so fast past that now; armchair philosophizing groups like the Law Society of SL have been overtaken by the "RL in SL" phenom and we now have the SL Bar Association, slated to hold its second meeting with RL lawyers in attendance Thursday, December 21, with a new blog for commentary.
The first stop for law and justice in SL has traditionally been the "socialism-in-one-sim" Neualtenberg, but since they had a coup and overthrew Ulrika Zugzwang and had some seminars in how democracy and the rule of law work, they've split, renamed themselves and spawned new factions to drink beer in the same foggy snow-laden pub. At a meeting at Neufreistadt FriesWithThat the other night, an American lawyer and a British barrister duked it out over competing legal concerns and various factions weighed in on the burning issue of whether the Scientific Council's function of constitutional interpretation was overreach or vital.
And did you know that the ACLU has dipped its toe into Second Life? The first scout from a local ACLU chapter board, Little Gray, soon found himself in hot water with the Lindens.
It seems that Gray found himself doing 4 days in Ban Town for getting booted from the Elbow Room for wearing a hippiepay, and complaining about it persistently. He's managed to pull a dozen relevant legal principles out of this typical SL experience, here, here, here, and here.
What has most torqued Little Gray is the forums phenom of legions of fanboyz telling him to shut up, who aggressively defend the Lindens' failure to uphold basic rights on the grounds that it is a private company.
We've all heard Robin Linden tell us that SL is not a democracy. Just how much it's not a democracy will become increasingly clear.
Of course, the fanboyz aren't wrong if we consider that the genre of Second Life is akin to the Boy Scouts in Boy Scouts of American v. Dale. The court rules that in a private "expressive" association that sought to instill values into young men, if the group wanted to condemn homosexuality, that was their right, and the state didn't have a right to interfere. That's the sort of ruling that protects a group's right to freedom of assembly, but irritates a lot of people who think that a public group using public facilities like schools or churches should have more obligation to protect minorities and uphold tolerance.
Others argue that SL is more like Mall of America, and hash over the dozens of cases involving people wearing anti-Bush or peace or Green t-shirts in malls, and being stopped by security.
With a visit by Judge Richard Posner to SL in a talk arranged by Hamlet Au, avatars got a little more professional opinion than they'd been served up by anonymous people with exotic first and last names and groups that fade on and off your screen in chance group bull sessions.
Yet at these events, as the dialogue is skillfully directed to both important RL issues like terrorism, and the generic issues of SL like intellectual property, the deeper problems of sharing of power with LL and the separation of government into powers with checks and balanches remain undone.
While we have Judge Posner and his book in our world; not one, or two, or even three but more legal associations, and even Government-on-a-Prim for sale with Hammurabi's Code, while the Lindens are about to overhaul the abuse-report system, we don't have the first clue about how the next autocratic move of LL — the real law of Second Life — will be executed.