by prokofy on 13/12/06 at 4:18 am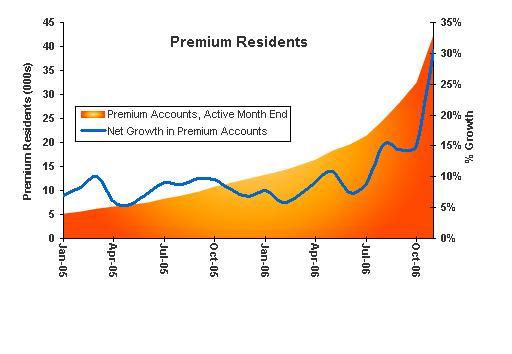 By Prokofy Neva, Virtual Estate Desk
The real numbers of Second Life's growth are constantly presented, corrected, misrepresented, and hotly debated. That's because there are different factions and interest groups that have different things they want to achieve by reflecting the numbers. For some, growth of land ownership is significant; for others it is greatly downplayed — because the relationship to land ownership itself is highly emotional and contested. Even the Lindens feel so ambivlaent about land sale as a business that they remove it completely as an occupation and set of transactions from their copious documentation of inworld economic activity.
Following the well-trod path of Sir Bruce's reporting on MMORPGs, the Lindens want to be able to show the millions of subscriptions, which they define these days disingenuously by sign-ups — something Tony Walsh has parsed and critiqued briskly and and Clay Shirky has dissed heavily. Tony complains this week, "despite the number of sign-ups doubling and tripling, the number of those who actually participate in Second Life's virtual world isn't following suit." Shirky sniffs that SL is just suffering from a TryMe Virus. But they both miss the real picture: SL is growing, growing substantially with real people, and while the numbers are inflated, growing at very fast rates.
It's just that SL shouldn't be measured like a MMORPG because it's an open-ended world more like a country, and more care should be taken to study the other factors that characterize it — like wealth per capita, GNP, transactions, and IMHO, numbers of premium accounts who own land.
A problem with SL is its vast memory hole — we have lots and lots of statistics, but only displayed for this month. So you have to get up early in the morning and do a lot of copying constantly each week and month to try to track the world. Let's hope that Adam Reuters will be able to probe more on things like what these richest 58 avatars *do* to get rich? Gambling and sex? Or interesting communications inventions?
A number I have long sought from the Lindens is the number of premium accounts. For various proprietary reasons, they didn't want to come through with this number for the longest time.
Finally, today, they have produced what is likely an accurate number.
Back in June 2005, when I and other land owners really drilled on this, in a community meeting I asked the question, and I finally got a senior Linden to reliably later give me a figure: at that time, when the Lindens claimed 40,000 sign-ups (using a different monkey-math to weight the figures than they use now), they had 9,000 premium accounts. Of these, only 6,000 opted to use land.
I was stunned. A game model that had land purchase as its main entry-point for its main businesses, a world that claimed not to be a game but even a future business platform, and a lousy 6,000 people — a mere 15 percent — bothered to buy the land?!
That was worrisome. I pointed out, as did others, that there were just too many factors discouraging land sale — everything from a cumbersome and wierd tier chart, to wonky land tools, to oldbies delivering homiles to new citizens that they "don't need land to have fun". The land baroning-industry that Philip unleashed at a town hall in September 2004 (Anshe had already made a killing selling snow by then), encouraging people to start real estate agencies, was controversial and remains so — people bring to bear their most fervent religious and political convictions about land and wealth and justice when they discuss land ownership and policies in SL.
Still, what's operative now is to find that the figure of premium accounts has now grown to 36,000. Of these, an unknown number do *not* own land but hold 512 free tier for land. There are likely less people who do that now, however, because it's no longer rational to buy a $9.95 account to pay for $1200-$2000 worth of currency (depending on the account start date), since purchases on the LindEx are now cheaper at the current rate of around $270 L/$1.00 US.
So let's posit that the number of landowners grew from 6000 people 18 months ago, to 36,000 people today — a factor of 6. Why is this important?
People are more important than square meters because one very large land owner might own 300 servers or 600 servers, of course, but 36,000 people (even short of their alts and divided by a third) is a significant number of constant log-ins. This figure includes the lowliest newbie who buys a 512 m2 in first-land hell all the way up to millionairess Anshe Chung.
And most importantly, it's the middle class — and the middle class does exist unlike the claims of a recent Dutch survey which sampled only 246 people, and claimed that only the very rich and very poor lived in SL.
The 36,000 land-holders of SL represent a variety of important, often overlooked stabilizing factors:
o they are people likely to log on more because they have a "stake," a home, a relationship, a job, an entertainment, a business, a non-profit cause — something they are willing to pay money to hold in 3-D
o they are more likely to shop and purchase from others to place a home or office and furniture and other objects so they are engines to the economy
o they are more likely to be creating or selling objects because most major creators have their own stores or at least a sky workshop to make things in
o they are not hacking around in sandboxes or worse, flying around clubbing, shooting, and griefing, but they tend to have either found an occupation or a relationship in SL and have a reason to wish to keep coming — they are the backbone of virtual civilization just as in RL.
This class of people are not the only economic engine of SL — so are the masses of TryMe sign-ups and basics who Zee Linden claims are more than 90,000 unique Residents who have bought currency on the exchange. Still, the middle-class of land-owners are an important and often overlooked number.
The number includes every new big business or institution, from Harvard to Reebok to Reuters to Warner Brothers to World Vision, who buy either whole islands, continents, or at least an acre (4096 m2). The "RL in SL" phenomenon is contained in these 36,000 landowners.
By the same token, the old immersionist world of everyone from elves to furries to Goreans to modern suburban hotties are also contained in this 36,000.
This figure in fact grew by possibly as many as 8,000 in November alone, if we look at the "land purchase" sinks on the economic pages. (This figure of payments to Governor Linden for land includes first-land purchases for $512 each; it's not certain whether it also includes auction purchases denominated in Lindens). THAT is why there is such a land shortage — growth exponentially of this class of people, and the Lindens desire to serve them mainly with the more lucrative private island sales — Robin Linden said that the amount of land in SL would increase 50 percent in these six weeks since the new prices were announced and people scrambled to buy under the old prices.
36,000 of anything doesn't sound like much; it's not food for Sir Bruce to salivate over; it's not impressive to Clay Shirky who is bored and skeptical by the concept of 3-D shopping; it's not anything to ring Tony Walsh's chimes because it's just not enough information about what people DO such as to merit any real ecstasy about SL.
Still, I feel it represents not only significant growth, but significant commitment to going the distance with SL not easily dismissed. Each one of these 36,000 has likely at least 1 other person — and more likely 10 — they are supporting within SL by their activities. By various real estimates, log-ins are now likely 100,000-120,000 per day — and many of those log-ins are owned by Anshe Chung, as they live in her Dreamland, and other land-owners.
Thus, factoring in that behind the figure of 36,000 are hidden thousands of tenants who don't outright own land in the sense of having purchased it from Governor Linden, the real contours of the people of SL start to emerge.
It is not 2 million. It is not "Logged In Last 60 Days: 789,440″ — precisely because among those 36,000 are some who logged right out again, some for more than 30 days, because their land simply wasn't working, had a build returned, was too laggy to use, or couldn't even be reached by teleport. And of these 36,000, 1,916 had a total of 8,081 parcels for sale today — either because they were tiering down in disgust from SL's poor performance or were the happy winning bidders on an auction and were chopping and re-selling — and how can we know how many in each category?
Still, the huge buzz of newbies around first-land fields who are *not* all swooping baby barons, and the more matter-of-fact buying of land with less fear than a year ago on the auction by many genuinely new people, means there is solid growth. This goes against the naysayers, of course, and it's not pleasing to those who would like to see SL be described not in terms of an old meat-world concept like geographical contiguous space and suburban tracts, but innovative communication tools participated in by wacky avatars wrapped in Moebius strips 500 m2 up in the air discussing bleeding-edge technology.
As much as it grates some to hear it, the land model developed by the Lindens and emulated by thousands of residents old and new is working to grow and stabilize the world. Among those 36,000 land owners are the publishers and editors of the Herald.