by Pixeleen Mistral on 03/01/07 at 10:30 am
Does plaid indicate Scotchguard anti-stain treatment?
By Pixeleen Mistral – Interior Decorating Consultant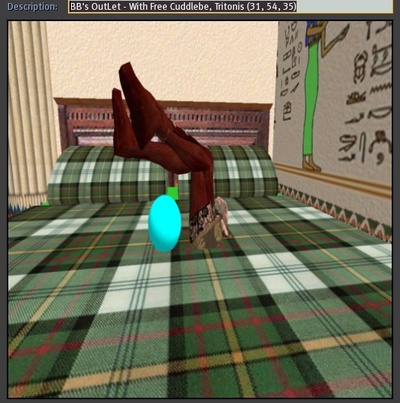 inspecting the box spring's workmanship – or a hawt new position?
The IMs were flying today with rumors of a 100 position sex bed for Second Life – and concerns about Gideon Television's heath should he attempt probe too deeply into this story. With Gideon apparently still indisposed after his most recent in depth investigative reporting work and an un-met burning need-to-know causing some metaverse residents to shift uneasily in their seats – it was time that something be done. Reporting – we've heard of it at the Herald. Plus I can probably expense this purchase if I write about it.
I eventually tracked down a supplier for the bed with Kama Sutra-like promises of variety at BB's outlet in Tritonis. But then things get complicated – there are several version of the sex bed – bronze (L$4600), silver ($5600), gold (L$7000), and platinum models promising 32, 42, 50, and 100 animations respectively.
A sort of volume discount applies to the platinum 100 animation bed which is priced at L$12000. A fellow shopper pointed out that the platinum would be money well spent for an escort, which raises the question – would you really want anything less than platinum? Perhaps this sort of thing indicates that metaverse escort services will become a capitol-intensive business – expensive accessories may be one way for high priced call girls to fight competition from the Unverified masses.
The bed has an elaborate series of menus that appear when you click on it – hopefully clicking through several menus to find just the right kink does not dampen one's passion during those special private times. I found I could add even more variety by not turning off my animation override before hopping on the sex balls – so for those that enjoy the "head under the bed crossed leg position" pictured can probably achieve 200 variations by leaving their animation override on.
Close inspection of the plaid bedspread suggests that is was designed to hide stains as well as evoke a certain retro 70s porn style. I just hope Gideon doesn't hurt himself with one of these things.