by Pixeleen Mistral on 21/01/07 at 9:43 pm
Only online Linden asks not to be bothered
by Pixeleen Mistral, National Affairs desk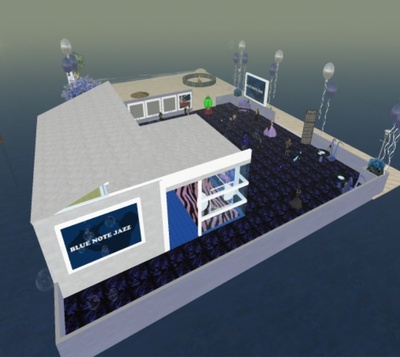 Blue Note before being eaten by database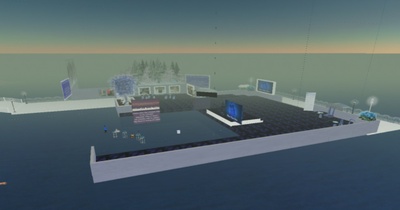 Blue Note blown away
The Blue Note Jazz lounge was destroyed by a sim crash during a live DJ event – the building was devastated by an apparent bug in the Second Life server or database software according to several reports that turned up on the Herald's mojo wire today. Dylan Rickenbacker told us that during a well attended event "at the Blue Note Jazz Lounge in Mocis a sim crash destroyed a large part of the builds there".
With a metaverse mess-up having destroyed the popular jazz hangout, and no assurances that this will not happen again, the club owners have closed the Blue Note until further notice. Member of the Blue Note group received a notice today stating in part, "The Blue Note Retro Jazz Lounge is now closed. Feel free to complain to the Lindens, note that they don't care that the last *ICON* in SL on the mainland will be leaving. Making plans and trying to regroup the Blue Note as soon as possible, but please be patient."
The Herald contacted Blue Note owner Naydee McGettigan and she shared a conversation with the Nicole Linden last night while begging for a rollback to retrieve her missing club:
Naydee McGettigan: I just want you to know Nicole… that even though Mocis is a mainland sim, the purpose of not rolling back mainland sims is to not effect others and the sim was packed to capacity WHILE this happened.. and no one has been online since in the sim, I have checked. You only would have effected the blue note by doing a rollback… and the short, care-less attitude was not appreciated by me or the 600 other people who come to enjoy the nicest place that was left on mainland.
Nicole Linden: Trade1 Whiplash has been told who to contact about this. And mainland region DO NOT get rollbacks. Please do not contact me directly about this again.
Naydee McGettigan: Trader doesnt own any land in Mocis, I do. 17,000m. Thanks again
Ms. McGettigan confirmed that she hopes to re-open the Blue Note on an island because, "the Lindens wont support Mainland, and there was no reason for the Note to just disappear like that". She continued, "so why go through this if it could happen again tomorrow and they still won't help".
Ms. McGettigan also reports that the problem "wasn't due to coalescence as the Lindens tried to say. there were 600 open prims".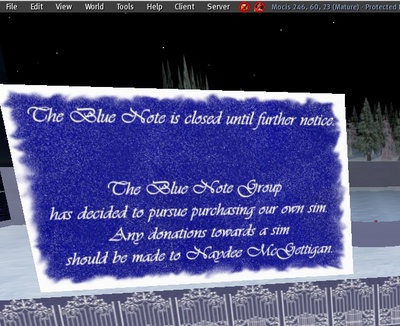 Mo' Better Blues – maybe later
Beyond the loss of a club, this episode points to a deeper problem – with unstable software and limited support from our metaverse service provider, there are bound to be bad feelings among the paying customers. As Ms. McGettigan said, "There was no reason for the software to fail like this and for the amount of money that the Lindens are making, they should have had someone on hand last night to handle a quick rollback. The Sim was full – no others were there to be effected by what would have been a quick fix for an obvious SL bug. The Blue Note building itself .. may it be sentiment…. meant a lot to me, personally. I am sincerely disappointed in the service that the Lindens are offering to their paying customers."
With the Linden Answers Forum closed, avenues for customer complaint seem limited to stalking Linden staffers – should any turn up in Linden Village – or writing e-mails. Here is what Dylan Rickenbacker had to say in his e-mail to Linden Lab:

---
I just heard the terrible news that The Blue Note Jazz Lounge, one of
the longest standing and most attractive hangouts in SL, has been
eaten by some database failure or some other glitch in the SL servers.
Such things can happen. What I find absolutely unbelievable and
unacceptable, though, is that Linden Labs appears to refuse to share
any responsibility for getting the Blue Note back up. A failure in
your servers caused the crash, after all … so how can you refuse to
step in and do everything in your power do repair the damage?
If that is the way you are dealing with one of SL's most creative
residents who has made a huge contribution to making SL what it is
today, what kind of support can I, as a fairly new resident, expect
should I ever have a real problem?
A thing like that is bound to create a lot of bad publicity for your
company, and very deservedly so. Therefore, I strongly encourage you
to act quickly and help the Blue Note's owner to get the lounge up and
running again as soon as possible. If you can't do a rollback for
whatever reason (which I would be interested to hear, by the way), the
very least you can do is to offer her some substantial recompensation
in money and/or land. Once again, remember the crash is your
responsibility and it has destroyed hundreds of hours of creative
work. Do something!
- Dylan Rickenbacker

---