by Pixeleen Mistral on 13/01/07 at 5:38 pm
Dell corporate island owner has no billing info on file
by Pixeleen Mistral, National Affairs desk
UPDATE – Today the Herald was able to contact Pyrrha Dell who assured us via e-mail that Dell is a good citizen – although the financial arrangements with Linden Lab are confidential. To try to entice Pyrhha to upgrade to a premium account, I'm hoping to take her shopping for clothes in Second Life soon – I've got an SL Herald Platinum Corporate Card that I used to verify my account – so I can expense the whole shopping spree. Hopefully search and teleports will be working consistently soon, and as long as we stay away from places that refuse entry to unverified avatars like Pyrrha it should be a great time!
–
Hi Pixeleen,
You're right I don't get into Second Life nearly as often as I would like. But please don't take that as an indication that I'm not serious about Dell's involvement in Second Life. I've added a comment to your original post. While I can't go into details of Dell's financial agreements, I hope that my response does somewhat assuage the fear that Dell is not a responsible resident.
Thanks,
Laura
Laura P. Thomas, ABC*
Corporate Editor
Dell | Global eCommerce | Second Life | Pyrrha Dell
*Accredited Business Communicator | International Association of Business Communicators

---
Corporate titan Dell Computer may have fallen on rough times of late, as the low overhead computer firm seeks to regain its former profitability. Perhaps it is a cost cutting measure – but it appears that Dell found a way to own land in Second Life without providing Linden Lab with payment information [using the same methods as normal residents]. How does this affect the Linden's balance sheet? Can our readers get a similar deal – or does your last name have to be Dell to get out from under the tier payments? have a confidential financial arrangement?
Dell's Second Life presence consists of a number of islands owned by a Ms. Pyrrha Dell. However, Ms. Dell's Second Life profile indicates that she has "No Payment Info On File" – which caused a number of metaverse residents to wonder how Dell makes land tier payments to the Linden Lab game gods.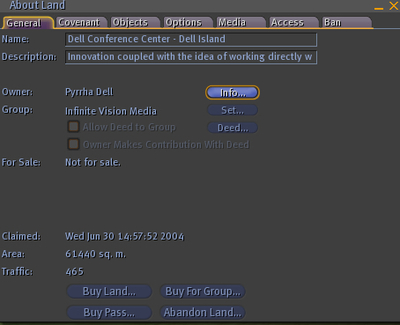 A visit to the Dell islands confirmed what our sources had suggested – Dell's island are not group owned – instead they are owned by a single person – Pyrrha Dell – yet somehow this resident remains unverified.
From the picture in her profile, Pyrrha seems to have done well enough on her appearance picking up freebie clothes, hair, and skin, but we are sure that many of our readers are deeply concerned that she is still unable to buy L$s at the Second Life web site. Although a number of residents have found ways to make L$s in the personal service industry to get themselves started in SL, we still wonder how Pyrrha managed that land purchase. Did Dell get a sweetheart deal from the Lindens? – and how can Pyrrha pay her bills? If you can use an unverified account to own an island is this a way to launder money?