by Pixeleen Mistral on 29/01/07 at 11:35 am
Bot-man Kamilion Schnook's underground testing facility
by Pixeleen Mistral, National Affairs desk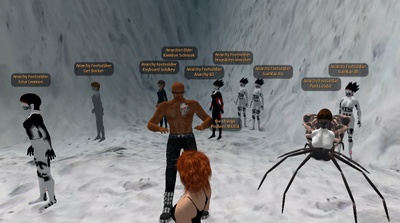 Inside a mountain on Anarchia Island, beneath a false floor is a cave that – at times – contains around 20 bots – zombie avatars controlled by a single person. Last night, a tip arrived on the mojo wire talking about "a secret cave filled with bots ready to attack". Unfortunately, this turned out to be a little too good to be true – my dream story will have to wait for another day.
What I did find was an underground bot testing facility used by a scripter following the libSL open-source client developments – Kamilion Schnook. Mr. Schnook took some time to chat and demonstrated his botnet a bit – until they crashed and disappeared one by one after about 40 minutes.
The bots are a set of accounts being driven from a single client side program, and crashing bots are OK with Mr. Schnook – he says the point of making the bots is to "do smoketests on libsecondlife daily builds here, on linux/mono and windows/.net". When the bots crash, Mr Schnook says, "the results are submitted back on to the libsl maintainers as well as stack traces of when they do eventually crash". As we waited for the bots to crash we chatted a bit.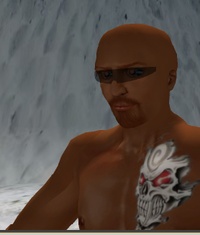 Pixeleen Mistral: so this lets you run a small army potentially? plus debug LibSL?
Kamilion Schnook: army? I suppose… they do have a mass follow command. but they never leave the island.
Pixeleen Mistral: cool! I know some people that would love that mass follow command
Kamilion Schnook: this is a private simulator. so we don't have to worry about people complaining that we're doing it on their land or public land or whatever. just so happens they tend to tip us over the top when we had the camping chairs out, which we removed earlier today. they also put much less stress on the simulator since they don't have to display any textures or primitive data.
Kamilion Schnook: we've easily been able to handle 99 people in the sim with .80-.90 time dilations.
Kamilion Schnook: Since they're all dressed alike and request far fewer agent updates than the normal client, a set of 20 of them is about equivalent to one normal SL client
Kamilion Schnook: TestClient itself isn't automated but we have a shell script that checks if it's running and restarts it when it crashes after copying the logs out to a holding directory
Botnets
Pixeleen Mistral: so are you just doing all this for the fun of it? or to make something?
Kamilion Schnook: You could say that — we're helping out the community by locating problem bits in the code and fixing them. but I don't get paid for it, and I'm not directly associated with the libsecondlife project
Pixeleen Mistral: how many of these bots are going to appear? how many do you make?
Kamilion Schnook: there's a total of 23 on one net, and 14 on the other, for a total of 37.
Dominant 3D Browser?
Pixeleen Mistral: sounds like you are uber-committed to SL
Kamilion Schnook: Some folks have to be to make sure this ends up to be the dominant 3D Browser.
Pixeleen Mistral: well one of them will win I suppose
Pixeleen Mistral: probably whatever google gets behind
Kamilion Schnook: well, SL's the only one I know of so far, other than opencroquet, that allows you to modify the entire world from end to end.
Kamilion Schnook: I asked phillip at the last townhall I saw him at about google buying out LL… his response was "no way"
Pixeleen Mistral: what about open croquet?
Kamilion Schnook: they have no economy — it's just a fancy client without a world at the moment
Pixeleen Mistral: you kinda need a world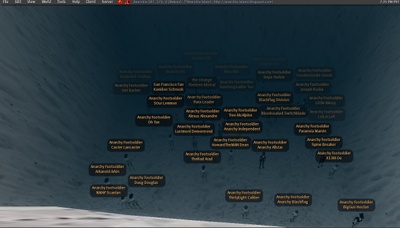 Camping Bot armies are over the top
Kamilion Schnook: we generally keep to ourself here in the sim, although I have noticed other people using bots on our camping chairs.
Kamilion Schnook: I have no real problem with our bots staying here and being used for testing, but sending out an army to camp seems a little over the top to me.
Pixeleen Mistral: yeah that is too much
Kamilion Schnook: But eventually these things are going to be able to speak and interact with people
Kamilion Schnook: one of my pet projects is a bartending script for them
Pixeleen Mistral: NPCs
Kamilion Schnook: I'm sick of seeing those fake flat people behind bars


Kamilion Schnook: or even card dealers
Kamilion Schnook: there's no end to the applications that this opens up — this and the SL viewer going open source.
Kamilion Schnook: and it's an easy way to 'save the grid' by doing off-world processing instead of using the simulators to do it.
Kamilion Schnook: Eventually once the mono VM hits aditi and CIL bytecode is allowed. we'll have some of the same tools in-world as we'll have outside of it.
Kamilion Schnook: OpenCroquet can already speak the X windows protocol and display unix applications on a prim.
Kamilion Schnook: SL will eventually reach that level, even if it's a flash UI on a webprim.
Use responsibly
Pixeleen Mistral: imagine the fun the war role play guys could have
Pixeleen Mistral: their own personal army to command
Kamilion Schnook: I'd rather not for the moment.
Kamilion Schnook: I don't doubt that eventually, someone will write a bot script that will allow them to equip a weapon and hunt people down.
Pixeleen Mistral: yeah I expect that
Kamilion Schnook: combined with something like ownage, then some issues might begin to crop up.
Kamilion Schnook: but it's the same as llRezObject, sure you can use it to grey goo, but you could also use it to rez all the dots in a pacman game
Kamilion Schnook: the code to do it is only one line difference
Pixeleen Mistral: in other words – use responsibly
Kamilion Schnook: exactly.
Kamilion Schnook: And we've seen overwhelming responsiblity on the user's part…
Kamilion Schnook: we've got 3 million registered accounts, and likely less than 100 of those are the kind of people with not only the skill to write grey goo, but the motivation.
Kamilion Schnook: What that motivation is, I don't suppose I'll ever know.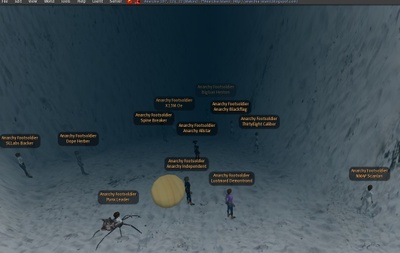 Bot testing is OK with the Lindens
Kamilion Schnook: 'couple lindens know about my botnet and are aware it's not being used for greif, so for the most part, it's fine with them.
Kamilion Schnook: they've been online and testing for nearly 3.5 months now
Pixeleen Mistral: well then the Lindens must be OK with it and if it is helping LibSL out it makes sense
Kamilion Schnook: As long as I'm not misbehaving with them, yes.
Kamilion Schnook: had I used them for Evil (TM), then the whole set of them and myself would likely be banned within hours.