by Pixeleen Mistral on 12/01/07 at 5:45 pm
Pro/Anti Le Pen groups side by side in Matrix Mall
by Pixeleen Mistral, National Affairs desk
In a press release today, the SL Left Unity group blasted the Front National party in Second Life as a fascist/racist organization and set the scene for ongoing confrontations by buying land next to the FN office in the Matrix Mall – while staging protests outside the pro-Le Pen FN group's headquarters in the metaverse.
According to the press release, not only are the words growing heated, the scene is becoming more violent as protesters complain of being shot by FN security – and this seemed to be what I was witnessing on my visit.
While at the Matrix Mall in Porcupine this afternoon, I saw crowds of pro and anti-FN avatars milling about with some avatar's weapon shields engaging occasionally. I also noticed what seemed to be a pattern of anti-FN avatars suddenly flying into the air – evidently a low-intensity push weapon skirmish was being fought – at the same time political positions were being argued in french. Given the rhetoric of the groups involved, the conflict I witnessed was not surprising.
The SLLU has demanded that Linden Lab ban Le Pen's supporters from PG-rated land as a "race hate group who are masquerading as a political party". According to the press release, London based SLLU member HiggleDpiggle Snoats said, "Although in the interests of free speech I question the usefulness of an outright ban, I feel it is completely inappropriate for a known racist group to be operating within a PG sim".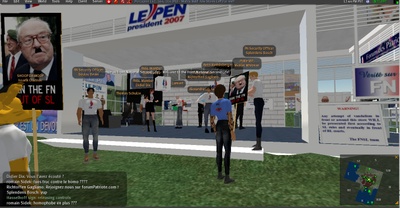 carry a "Ban the FN Out of SL" sign and maybe get shot
In any case, it appears that for politics, weapons, and francophones the place to be today is the Matrix Mall in Porcupine. I left wondering how long until the abuse reports start flying and how Linden Lab envisions resolving these sorts of issues going forward as more real life political disputes migrate in-world.