by Pixeleen Mistral on 18/01/07 at 1:40 pm
SL not just for French fascists – Socialists can play too!
by Pixeleen Mistral, National Affairs desk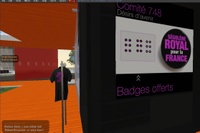 Joyous news sure to warm the hearts of French socialists everywhere in Second Life arrived on the mojo wire this morning. Supporters of Ségolène Royal have formed a group, purchased land, and constructed offices to support their candidate for president. I hopped in-world a few hours ago to see for myself, and yes, it is true: the 748th local committee of Désirs d'avenir has been created in Second Life – and they have offices.
Not only are there offices in Second Life, there is also a video of the beaming candidate sitting near a computer that appears to be running second life – sharing a stirring endorsement of her friends in the metaverse. Clearly we are at the forefront of the new political media – World Of Warcraft only wishes they had real life politics in their game.
Still, these developments raise some questions. Can we look forward to more protesters and francophone confrontations? Is that good for property values? I know that hanging around Le Pen's headquarters recently has greatly improved my ability to conjugate certain french verbs – and anyone who aspires to robust political discourse certainly needs these tools in her arsenal. I've also found that "putain" appears to be a popular word in french political rhetoric as well – at least near the National Front offices.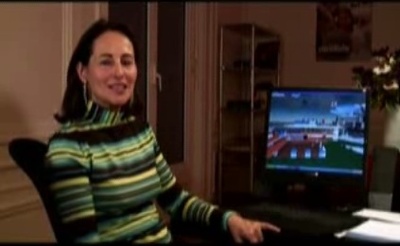 Ségolène Royale's real life avatar likes Second Life
While the Second Life neighbors of Jean-Marie Le Pen's National Front supporters seem to just wish that French presidential politics would move to any other sim in the metaverse, a not-in-my-back-yard backlash has not yet developed for the supporters of Ségolène Royal. Perhaps the scene will remain calmer there. Certainly Ségolène Royal has raised the bar for Jean-Marie Le Pen – can we look forward to a Le Pen endorsement of Second Life soon?