by Pixeleen Mistral on 25/02/07 at 5:51 pm
DarkLife creator robbed of $400 USD – fingers griefers as suspects
by Ouchquack Stern, spastic bastard
"ZING!"
The sound DarkLife players yearn for is reminiscent of the muted strum of a harp in the key of "C". The meta-game players — both the Mages with their wands, robes and pointy magic hats, and the Fighters with swords, armor and shields — spend hours to slay monsters so they can go up a level and hear that sound. But that heavenly chord was twisted to evil purposes, and used against the intrepid players Saturday evening, as a dozen seasoned players gathered around the Shrine in the center of Navora to whisper about the hackers who have made their beloved game unsafe.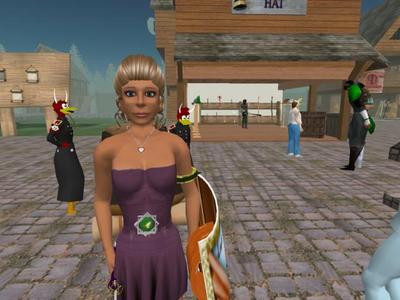 a gathering of people at the Shrine in Navora
DarkLife is basically the Second Life version of the old table-dice-pencil-and-paper role playing game "Dungeons & Dragons" in that it is 'turn' based, players 'level' to advance and there's a lot of hack-and-slash fighting with some magic tossed in. DarkLife's kind of role play is the old fashioned kind — "I kill the dragon. Arrrrr!" Not the modern take on 'role play' which is practically synonymous with fetishistic sex-play.
DarkLife developers Mark Busch and his pal Pirate Cotton have been running the game-within-a-game for nearly three years now, and over the years they've attracted thousands of Second Life citizens — all of whom have paid nearly L$500 to don the backpack that stores their experience, gold, mana, health and level for their combat-based advancement. And with every level advancement players get more 'level up' points to apply to their abilities so they can use more powerful weapons and magic items and inflict greater damage on the many monsters in the Navora sim. Each new weapon costs $L50 and a fist full of DarkLife game gold, the Linden dollars going into the pockets of the game developers in a constant stream of 'KA-CHING! KA-CHING! KA-CHING!' That is, until a couple days ago when it all went distressingly wrong — and a felony was committed in Second Life.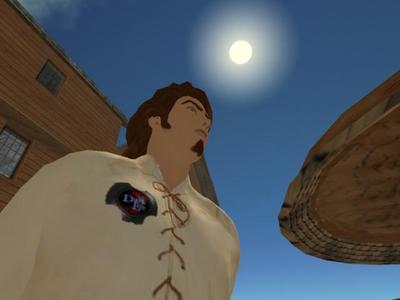 Mark Busch, DarkLife co-founder
"We've been robbed for about $400 USD (United States Dollars)," said DarkLife creator Mark Busch in an instant message to Pirate Cotton, as relayed by Cotton to the Second Life Forums. Mark Busch and Pirate Cotton confirmed the post in extensive interviews by the Herald. "On the 17th my account got robbed by some dude named 'CheckOutThis Hax' and 'Data Lindman.'"
Busch speculates that CheckOutThis and Data are one in the same, and they are also alts of one Cleint Hax who hacked into DarkLife a few weeks before with a hack that raised Dark Life player victims level after level in a matter of seconds – 'ZING, ZING, ZING, ZING!!!'
This reporter visited Navora on Saturday night to ask some locals about the felony burglary, when griefers OpenSource Hax sat on the head of Dark Life player Sammy Grigges while one StealingCashFromDarkLife Allen started hacking Dark Life player packs and boosting levels at a prodigious rate — 'ZING,ZING, ZING!!'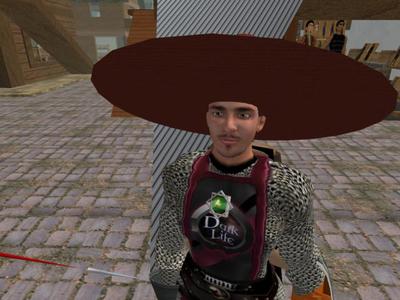 Trevor Langden, DarkLife security
Long time DarkLife players Ethan Pow and Trevor Langdon, both members of the DarkLife Security Force, quickly booted everyone from Navora and closed the sim, in response to the griefers. Within minutes Pow created a temporary group and invited legitimate members into the sim so they could safely continue their play. That made the sim safe from griefing, but slowed commerce down to a crawl.
"When I fixed the bug the other night this hacker came back (Saturday) and when he noticed he couldn't steal any more cash he went on messing up people's (game stat storing) backpack," Mark Busch told the Herald. "Its typical behavior for a teenage hacker: using prank names, messing things up, talking big" and generally throwing tantrums when things don't work the way he wants.
Busch says the griefer pulled the level-up prank a few weeks ago, and Pirate Cotton reported the activity to Linden Lab through an abuse report and direct contact. Then a few days ago the griefer tapped into the DarkLife vendor refund account and took $400 USD worth of Linden dollars. They insist that both pranks, and the ability to talk in group chat without being in any DarkLife group, are hacks requiring knowledge of the channel number the game developers use for privileged communication — like money transfer. But how did Hax know the channel number?
According to Mark Busch there are three possibilities:
A recent Second Life bug relegated every bought item to 'copy-mod' — even scripts
Hax found a new bug in Second Life
Hax used a scanner to find the channel *
*Unlikely: there are a reputed 4 billion channels – at 100 scans a second it would take two years to test all the channels.
The fourth possibility, one that Mark Busch doesn't want to address, is the possibility that the hack was an inside job. When pressed he admits that he and Pirate have extended access to that kind of information to two employees — and they could have shared info with their relationship partners. Possible, but unlikely as all have been long time paid employees and the hackers have just recently cropped up. Not so coincidentally – according to Busch – right after Second Life went 'open source.'
"Before (SL went open source) there were some minor hacks, but I was able to track them down to bugs in DarkLife itself," Busch told the Herald. After the theft "I was able to track down what this hacker did but it's not a bug in DarkLife. How did he get the channel number? The most obvious answer is the HUGE buy-mod bug a month of two ago. The other is that he used the open source (of Second Life) to find a new bug that allows access to scripts."
Busch says he reported Client Hax weeks ago, and IM'd Spike Linden about the activity in Navora Saturday night, but was told to file an abuse report and the Lindens will do what they can. Essentially the same thing one is told when a noob runs around nekked in a Welcome Area — not the kind of investigation and customer support one would expect for one of the most successful content creators in Second Life who is faced with a breach in security that is crippling his business. (Spike Linden did not reply to a request for comment).
As of Sunday afternoon Dark Life was still restricted to group members. Business – usually brisk on the weekend – was crawling at a snails pace.
"Maybe if they freeze his accounts I could still get the L$ back before he sells it," Busch said. "He is still online, and able to talk on the DarkLife Players group even though he is not IN the group." What are the odds that Linden Lab will step in and help in time? "It seems unlikely," said Busch. Meanwhile, the 'KA-CHING! KA-CHING! KA-CHING!" sound of L$ falling into DarkLife coffers has fallen all but silent in Navora.