by Pixeleen Mistral on 15/02/07 at 12:52 am
Daddy/little girl, mom/daughter are most popular ageplay groups
by Pixeleen Mistral, National Affairs desk
For those who's Second Life might not be complete without acting out fantasies with hermaphrodite child avatars – the odds do not look good. But an exclusive Herald study suggests that daddy/little girl ageplay is popular among 44% of those who express a preference by joining an ageplay fetish group. Mom/daughter ageplay is in second place with 25%, and daddy/boy places third with nearly 15% of the group members – so perhaps incest is not a major issue in this community.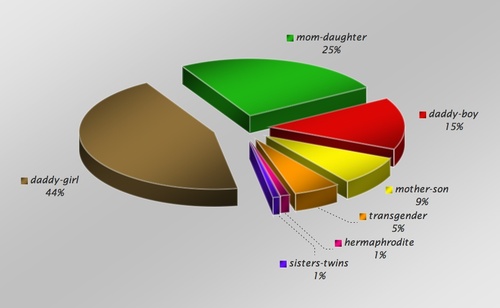 How would you like to play today?
However, in the study of the Second Life groups, Herald researchers found only about one in a hundred ageplay avatars joined the hermaphrodite/intersexed ageplay group. It is unclear if this is due to poor marketing, asset server problems, lag, or the limited number of groups Second Life citizens can join.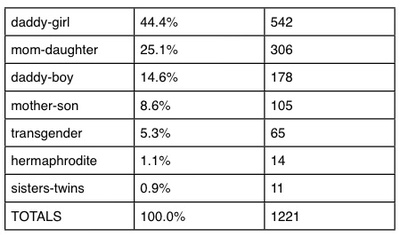 Ageplay preferences by the numbers
The study employed a rigorous methodology – scientists looked up "ageplay" in the group search tool, then read the group charters and categorized each group into either general ageplay, or fetish-specific ageplay, and compared the relative popularity of the fetish-specific groups. With around 1200 members, the fetish-oriented ageplayers easily outnumber the roughly 700 members of the more general ageplay groups.
Researchers point out that the actual number of adults who wish to have sex with act like children in Second Life is likely to be higher than the number of members in these groups.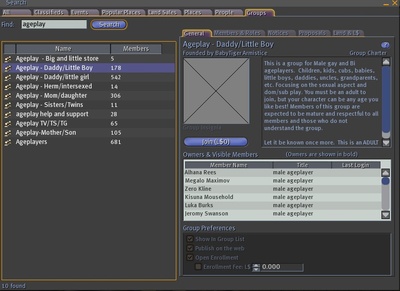 Casting call for the Elizabethan Pornography Smugglers "Gay Boys in Bondage?